What Israel Means to Me
By Samantha Brody, USY 2019 International Israel Affairs Vice President
What does Israel mean to me?
Well, where do I start?
I could write about how Israel is our historical homeland and that our people's roots there go back thous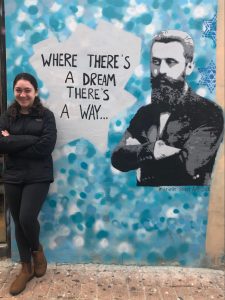 ands of years. Last year was "Israel at 70," a year that reflected the incredible transformation of the State of Israel since 1948, but there is Jewish history around every street corner in Jerusalem and every building in Tel-Aviv. Israel, to me, could just be a place where history comes to life.
I could say that Israel, to me, is the Jewish State. Israel is home to countless historical relics from every era of Jewish life. It is the only place where the country shuts down for Shabbat, where mezuzot decorate doorposts across the country, and where the emblem of a menorah would be on the shield of a nation. Israel could, quite easily, be labeled solely as the Jewish State.
I could say that my Israel is innovative, that Israel is the Start Up Nation, and that would be amazing in itself. I could emphasize the importance of modernity and talk about how Israel is influencing the world. Surely, innovations like drip irrigation and the massive steps being taken by in space exploration and driverless cars could begin to describe what is so outstanding about Israel.
Describing Israel by any of these epithets would be absolutely accurate, and yet none of them even begin to approach what Israel truly is to me. Even embracing Israel as multifaceted, some combination of all of these faces, doesn't quite get there. To me, Israel isn't just a combination of traits. Israel is applauding when the plane lands at Ben Gurion Airport. Israel is walking through the shuk on Friday morning and hardly being able to walk through the crowds of people trying to prepare for Shabbat. Israel is waking up one morning just to watch the sun rise over the Kineret. Israel is basketball, Blundstones, and constantly being asked if you're on Birthright. Israel is being able to arrive in a foreign and unfamiliar country and somehow feel right at home.
I've been asked more times than I can count why I love Israel. I usually fumble through some answer and then feign a smile, but I have never been able to explain exactly what about Israel makes me so intrinsically connected to it. That's what makes Israel so special, though; so many of us can talk about Israel for hours and never pinpoint a singular reason why it's so meaningful. My, and I believe our, connection to Israel transcends explanation, and to try to put into words what Israel means to be is like trying to explain happiness.
When you reflect on your relationship this Yom Haatzmaut, and I hope that you all do, think about what makes Israel your own. Consider which identities of Israel resonate with you, but more importantly, don't be afraid to see beyond that. Your connection to Israel can be whatever you decide, whatever you imagine, whatever you feel.
Israel isn't any one identity. Israel is a feeling, Israel is my home, and, if you want  it to be, Israel can be yours.