USY Names Programs After Hannah and Ari Weiss z'l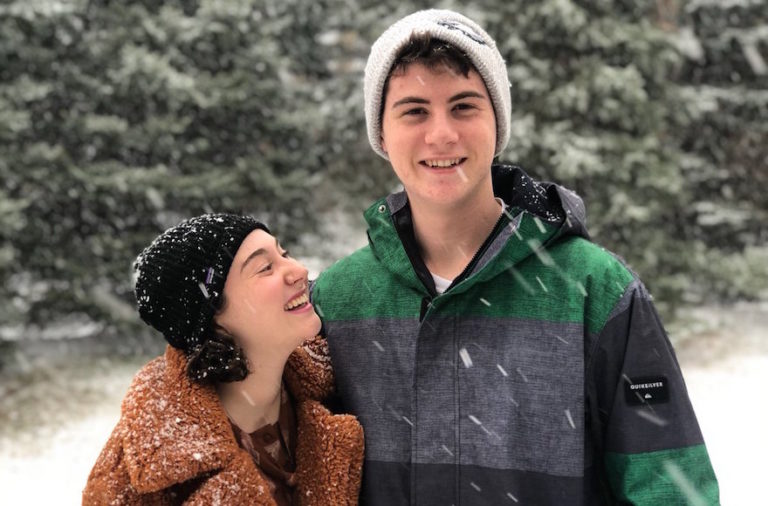 During its annual International Convention (IC), held December 23-27, 2018 in Orlando, FL, it was announced that USY, USCJ's youth movement, would honor the memory of Hannah and Ari Weiss in its programming. Hannah and Ari, along with their parents Leslie and Mitchell, died on December 31, 2017 when a single-engine plane on which they were passengers crashed in Costa Rica, leaving no survivors.
Hannah Weiss z'l Hasviva Shelanu (our environment), dedicated in Hannah's memory, is a sustainability initiative created by Emily Rosenberg, 2018 International SATO (Social Action Tikun Olam) Vice President, that aims to make USY a more environmentally friendly organization.
Hannah, a sophomore at List College and USY's 2016 International SATO Vice President dedicated herself to environmental advocacy. According to Emily, Hannah "cared deeply and loudly for justice and [had an] appreciation for the environment. USYers across the continent were motivated by her passion to learn about and advocate for a better and cleaner world."
Hannah Weiss z'l Hasviva Shelanu will be implemented in two parts. In its first year, three percent of the Tikun Olam funds raised in the 17/18 year will go toward international programming, such as International Convention and summer programs. Every year after, the initiative will build on the previous year's funds. Ultimately, the fund will be used to make a more localized impact, distributing resources at the regional and chapter level through specific program grants.
Ari Weiss was a sophomore in high school and president of his USY chapter at Congregation B'nai Israel in St. Petersburg, Florida. In honor of Ari, a talented musician, the IC Sharcharit Live band will be named the Ari Weiss z'l IC Shacharit Live band in perpetuity. IC Shacharit Live is a multimedia musical shacharit (morning prayer service) experience held at convention in which tfillot (prayers) are done with a live band, interspersed with movie clips that relate to the theme of convention.
Mili Cattan, Ari's close friend and 2018-2019 Hanefesh USY (Connecticut and Western Massachusetts) Regional President, said of Ari, "Most of all, Ari loved music. Wherever he was, he would be humming a tune, singing tefillot, thinking of new lyrics, or performing on stage in front of hundreds of people. Ari expressed himself through his music."
Said Leslie Lichter, USCJ COO, "Through the Hannah Weiss z'l Hasviva Shelanu and the Ari Weiss z'l IC Shacharit Live band, we pledge our commitment to the Weiss family's legacy. We hope that they continue to remind USYers in each generation about the impact Hannah and Ari had, and continue to have, on their USY family."