USY #ICDallas Daily Update | December 27
Today USYers put the lessons they've been learning to practice in order to help the greater Dallas community. Venturing out into the area, they took part in hands on social action projects to benefit those in need. They sorted and stocked food pantries, organized clothing for donation, sang carols and played games with families at community centers, and more, for organizations including Goodwill Industries of Dallas Inc., North Texas Food Bank, ACH Child and Family Services, Community Enrichment Center, Catholic Charities of Fort Worth, Volunteers of America Texas, Senior Services of Greater Tarrant County Inc., Hope Farm Inc., Christian Center of Fort Worth, Christian Community Action, Mission Arlington/ Mission Metroplex, and Congregation Ahavath Sholom.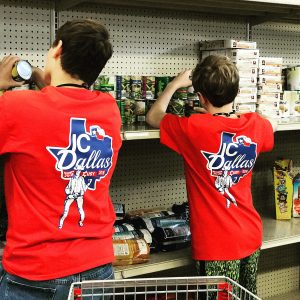 "It felt really good to know that these kids will be getting easier access to educational materials because of the work that I did today. I felt like I made a true difference in the lives of these children."
– Jake Klaiman, EMTZA; On volunteering in the library at Congregation Ahavath Sholom
"I felt like I gained insight on how life here is and it was really awesome to be able to help people who were working really hard. This one woman came up to us and thanked us…I felt really helpful and needed."
– Gabriella Roseman, Far West on volunteering at the Christian Community Association
"With each present I added to the boxes, my heart was filled with more and more Pikuach Nefesh (the principle that the preservation of human life overrides virtually any other religious consideration). It is amazing how much we as USYers can already make an impact, not only within our home communities, but elsewhere. USY continues to inspire me to be involved in social action."
– Seth Walensky, NERUSY, Goodwill of Dallas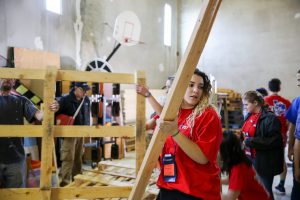 "It's really rewarding because you know you're doing something good, but with your friends, so you're having a good time."
– Mira Katz, Pinwheel; On volunteering at the Goodwill of Dallas
"I think we can all learn a lot from doing a little tikun olam. It put into perspective what are necessities for other people and I learned a lot. I know what really makes a difference and what people can really use when donating."
– Gabe Bibliowicz, New Frontier; On volunteering at the Christian Community Association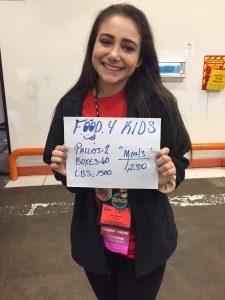 "I saw everyone just having fun and getting into it, doing competitions to see how many bags [of food] they could pack in a minute, and though you didn't see the impact on the [recipients], you just know that everyone that is getting the bags is going to have a smile on their faces as well."
– Jen Berenson, HaNegev; On volunteering at the North Texas Food Bank
"Working at a food bank is so easy to do but makes a [difference] in the North Texas community. My small actions can have huge impact."
– Avi Groth, METNY, North Texas Food Bank
"It felt good because we were giving back and what one person did in a week, we did in an hour. It was really rewarding to see the look on [employees] faces as we were helping them."
– Talia Harnoy, Far West on volunteering at the Christian Community Association
After a fulfilling morning, we went deeper into the heart of Texas, traveling to the Fort Worth Stockyards for a Wild West Show and cattle drive. Rough and tumble cowboys performed stunts, rode horses, and drove home the herd for the USYers. The teens got a taste of Texas, but they got to sample its real flavor (with some Jewish seasoning) with a kosher BBQ at Billy Bob's, the world's largest honky tonk.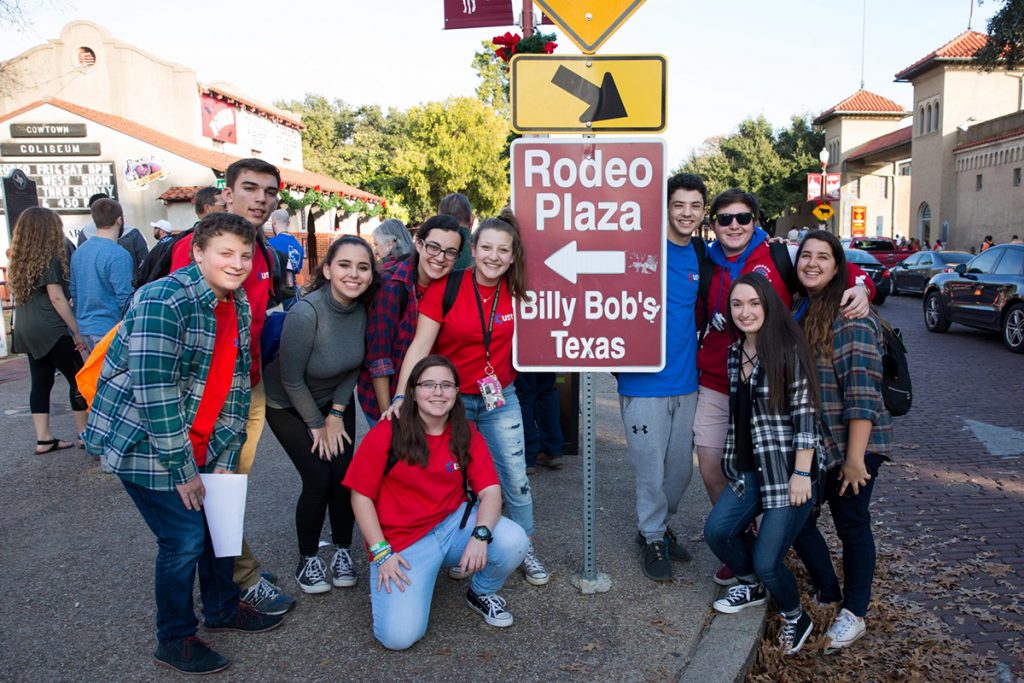 With full stomachs, the convention body moseyed on back to the hotel to light the menorah and enjoy an evening of entertainment that included USYers showing off their personal strengths in a talent show.
The USYers were able to make a real impact on the Texas community today, matched only by the long-lasting memories they gained from it. Laila tov from all of us cowboys and cowgirls here at #ICDallas!