An Unofficial Guide For USY Freshmen
Editors' Note: One of the most exciting parts about a new programming year is that we can officially welcome freshmen across the continent into USY! The Class of 2023 is sure to have great things in store for USY; but, the world of USY can seem very big to a first-timer. Have no fear! CRUSY's Seth Melamed has some tips for all new freshmen (and new members in general) that will help acclimate you to the crazy world of USY, and today he shares them with us all. 
Hey USY!!! WAASSSSUUUPPPPP!
This is meant to be a guide for freshmen that are now in USY about how everything works while providing you with some laughter. I have 12 tips because 12 sounds like a nice Jewish number.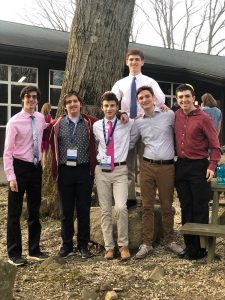 1. Go to every convention you can
Seriously though, conventions are the most fun part of USY. You get to spend a whole weekend with the most amazing people in the world and create friendships that will last a lifetime. I didn't go to all the conventions my freshman year and I still regret it. You also get an excused absence from school which is nice. Speaking of school…….
2. Stay on top of your school work
I know everybody in your life is probably telling you this but you don't want to have parents telling you that you can't go to an event or convention because you are behind in school. You will spend the whole weekend wishing you were at convention.
3. Conventions start with travel
I know that I have a lot of USY memories from my ride to conventions. CRUSY as a region is geographically thicccccc, meaning we always take a bus to convention, and bus rides always take hours.  Once, my chapter's bus got stuck on the highway outside of Columbus because a Pizza Roll truck caught on fire (Editor's Note: True story, and it ruined my icebreakers :/ ).  Swear to Hashem. If you make your bus rides (or other USY related transportation times) hype, you get both an extra few hours of convention, and conventions will be more fun at kickoff. Start FaceTiming friends on other buses, watch movies (Shrek and Mean Girls always rule my bus), and make bets on what time the bus will arrive. Once you arrive…
4. Start talking to people that you don't know
This is how you make new friends. If you only talk to people you know, you don't meet anyone new. Everyone there wants to make new friends, so don't be afraid to introduce yourself! In essence, FIND YOUR SHEEP (metaphorically speaking of course) (please do not actually go and bring a live sheep to convention)
5. Make memories as a grade
Your grade is the group of people you will be with the most at USY conventions. Make sure you guys become close quickly, and it will make USY even more fun as you get older.
6. Conventions don't end at convention
Make sure you don't let your convention friends only be your friends a few weekends a year. Instead, keep in constant contact with them between conventions. Don't let geographical distance weaken your friendships; instead, let it make your friendships all the more meaningful. Talking to friends is always the best medicine for Post Convention Depression (PCD). Jacob Ellenbogen and I legit talk every day, as he is now regretting letting me write this. (Editor's Note: ¯\_(ツ)_/¯)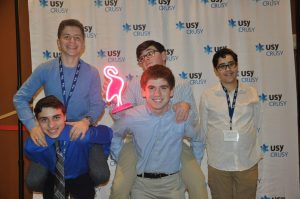 7. Make A USY Shoebox
When you get home from your first convention, take a shoebox and fill it with things that will remind you of USY. I have a box full of old Shabbat-O-Grams and nametags that I go through whenever I miss USY. This is another good PCD remedy. If you start now, you will have more memories every time you look through it, and it will be overflowing by senior year. Compound interest, you know.
8. Find a Sloach playlist to listen to
If you don't know what Sloach (slow ruach) is, you will soon find out and you will never want it to end. And it doesn't have to. Many regions, including my region, CRUSY, have some sort of sloach playlist that you can listen to in between conventions. Here is a link to CRUSY's Sloach on Soundcloud. https://soundcloud.com/centralregionusy. If you listen closely to a few songs you may even hear my voice. Sorry about that ¯\_(ツ)_/¯
9. Post photos from Conventions
Be proud that you are in USY and flex it on Instagram, Facebook and Snapchat. It may even help recruit new members!
10. Get involved in Leadership
See if your chapter or region has a Freshman Representative position. It will give you a chance to make your mark on USY and make it even better. Talk to your chapter or regional president about what you can do. See if there is a Chapter or Regional General Board position you could apply for.
11. Go to IC
IC, if you do not know, is USY's annual International Convention which will be held in Southern California this year from December 22nd to December 26th. It is one of the most fun things you will ever attend. You meet the most amazing people from across the continent. Moshing during Opening Session at IC might have been even more fun than Universal Studios. My IC group chat, Los Hombres, is the funniest thing on my phone. Just like your regional friends, stay in touch with your international friends.
Editor's Interjection: If you want to join USY in Southern California for IC this December, register now at usy.org/ic!!!
12. Because 12 seems like a nice Jewish number to end on, Have Fun!!
Having fun is the entire point of USY. You get to spend a few hours or days away from the rest of the world with other Jewish teenagers that are pretty similar to you. Take advantage of the time you have in USY.
Seth Melamed is a senior from Central Region USY (CRUSY). He is a proud member of ParkUSY in Cleveland, Ohio. He is currently his chapter's Membership and Kadima (Mem/Kad) Vice President.