The Torah Bytes 2019 Fellowship application is now open!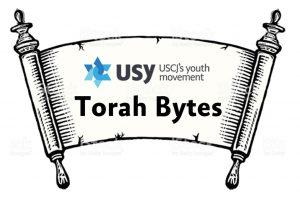 Read more about the Torah Bytes program here! 12 USYers participated in the last round of fellows.
What is Torah Bytes?
Torah Bytes is an online program in which USYers from across the continent come together to learn about and discuss Jewish texts, values, and other topics. In order to improve and grow this program, USY is excited to offer the Torah Bytes Fellowship. We will award this fellowship USYers graduating high school in 2020 or later. This fellowship will improve the participant's planning, engagement, communication, teamwork, and teaching skills.
Each fellow has the opportunity to earn $250 in USY scholarship money for their participation in the fellowship. Fellows will be expected to teach one session each semester, recruit new participants to Torah Bytes, and publicize every session among members of their region.
What do I have to do as a Torah Bytes fellow?
Fellows will create and lead 30 minute discussion based sessions during the fellowship, one in the spring and one in the fall. Fellows have the freedom to teach on whatever related topics they would like. Fellows will learn how to apply traditional Jewish texts to contemporary issues and incorporate these texts into a modern day discussion. Fellows will receive support in planning these sessions from the Torah Bytes Coordinator, members of the Rel/Ed IGB, and the International Rel/Ed VP. Fellows will debrief each session they lead after the fact in order to identify things that went well and ways to improve for future sessions.
Do I need to recruit anyone?
Fellows will also recruit new participants from their region to the program. The fellow will work with their Regional Director to identify USYers in their region that would be interested in participating. After Torah Bytes sessions, Fellows will be required to log new attendees from their region in a google form. The fellow who recruits the most new participants will receive a prize.
Fellows will be expected to advertise every Torah Bytes session to the members in their region via Facebook. This will include posting in regional facebook groups and your own timelines. Fellows will use #torahbytes when posting so their Facebook posts can be easily indexed.
Fellows are also asked to attend 90% of Torah Bytes sessions and assist in advertising larger Torah Bytes sessions with guest speakers that will happen once per semester. Finally, fellows will have occasional check-in calls and attend one orientation over webex in late January or early February.
Email and Facebook are the primary forms of communication for this fellowship. Fellows must be prepared to check their email daily and respond to messages within 48 hours of receiving them. Please make sure that the email you provide works and that you check it frequently. It is the responsibility of fellows who change email addresses to inform the Torah Bytes Coordinator as soon as possible. Finally, fellows must have an active Facebook account.
The Torah Bytes Coordinator and each fellow will complete a mid-year review to evaluate their progress and performance.
Will I get compensated for my work?
As compensation for all of their anticipated hard work , each fellow will receive up to $250 USY scholarship money. Fellows may apply this reward to any regional or international USY event or summer program. This scholarship money will be paid out in to installments. Once after a mid-year evaluation in June and again upon completion of the program in December.
When are the applications due?
Applications are due on Monday, January 21, after which we will accept fellows on a rolling basis until Sunday, February 10 or until all spots in the fellowship are full.
Questions? Reach out to the Torah Bytes Coordinator, Arielle  Yacker ([email protected]).