Spring Convention Recaps – May/June 2019
New Frontier/Pinwheel – Robbie Baker and Rachel Osband
On May 17, USYers from New Fro and PinWheel gathered in Milpitas, California at the Sheraton San Jose to begin an unforgettable weekend. This weekend, we dove deep into Disney with Disney-themed SA/TO programs, creative Shacharit, and ice breakers. Upon arrival, we had loads of time to catch up with all of our regional friends before starting programs. We then participated in ice breakers and both regions had their candidates forums before we enjoyed a delicious Shabbat dinner. After dinner, we officially welcomed Shabbat with our energetic Kabbalat Shabbat, followed by one of the best parts of convention, ruach. We then participated in a fun murder mystery program to conclude the night.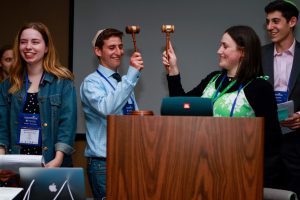 On Saturday morning the regions participated in creative Shacharit options, including games Shacharit, Disney Shacharit, and Zumba Shacharit. We then had regular Shabbat services followed by lunch and more ruach. In the afternoon, we had a program based on Eurovision before enjoying chofesh. After Mincha, we participated in a SA/TO program related to Disney's community service efforts. Next, we had dinner and then a sicha in which we discussed the importance of different types of relationships before participating in a meaningful slowach. Next, we celebrated the end of Shabbat with Havdallah out in the field and then both regions broke off for our elections. Finally, we ended the night with evening programs consisting of a game truck and silent disco.
On Sunday, we had Shacharit, which we kept exciting and upbeat even though we were not excited for our impending goodbyes later in the day. After brunch, awards, and installations of the new Regional Executive Boards, we had a goodbye circle, during which O-grams were passed out, and we were visited by many different characters, such as the wizard, the goats, and the warm fluffys. Convention had come to an end and it was time to say goodbye. Tears were streaming down many faces as we had to say goodbye to the seniors who would not be coming back. After crying all the tears left in our bodies, we all got in our cars and buses and left this amazing, unforgettable weekend.
HaNer – Evan Siegel and Ben Kane
HaNer USY came from merging two regions that have been together forever. For me, this birth of a new region encompassed what this year's Spring Convention meant. So many themes come to mind when recalling this convention, but the most important ones are these: making memories, learning and engaging, and love for the region and the USY community. Now, it goes without saying that this year's Spring Convention was so much more than just these themes, but I feel they exhibit the definition of HaNer USY most appropriately.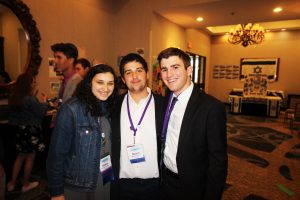 First, making memories. Immediately as I got off the van for Spring convention I was greeted by friends and staff whom I hadn't seen for a while, and it was at that moment memories started coming back. These memories were set off throughout the convention in conjunction with the formation of new ones through every single program I participated in. At spring convention I wasn't only remembering, I was also making. At convention, I participated in new traditions with HaNer, I made new friends, and experienced a true USY life. At these conventions anything is possible, and you get a break from regular life. It is because of these new memories I made that new light forms and a new region is created.
Second, learning and engaging. It goes without saying that I learned a lot and was heavily immersed throughout this convention. Whether it was learning about Judaism, learning about USY in general, or learning new tunes, USYers were engaged and thoughtful in their education. Everyone running the convention had their own sparks that added to a great weekend overall. The contributions made by numerous people all added to the creation of HaNer.
Finally, love. Saying goodbye is hard. As this was the last convention for many of my friends the lights of their USY careers began to dim; however, I knew there was good in all of this. The passion the seniors and my friends have for this organization is vast, and it definitely shed new light onto me. The seniors who I love very much have set an amazing platform for HaNer and I know I will be thinking of them when starting my work in the coming year.
Light, it is something that comes and goes. HaNer is coming, Hanefesh and NERUSY are something gone. My love for my friends, and my love for this organization will always shine bright. People always say it's impossible to describe the specific details of how and why a convention was great. I agree that too many sparks of light and too many memories were present to select a single moment. All I can say is that it was great.
Far West  – Raquel Kelley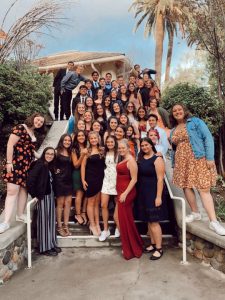 From May 24-27, Far West came together for their 66th annual regional convention at the beautiful Camp Alonim in Brandeis, California. This amazing weekend was filled with memorable luau dancers, an extremely fun banquet, and decently quick elections. Walking from one end of the camp to the other truly allowed for so many unique conversations with so many different people. Saying goodbye to the seniors was so hard, but our love for them will never fade. It is fair to say that Far West had an incredible regional convention, and we will cherish the time we spent together, forever.
Seaboard – Maddy Pollack
Over Memorial Day Weekend, Seaboarders gathered for the final time in the 2018-2019 programming year at Camp Louise in Cascade, Maryland for a crazy circus-themed Spring Convention. As always, buses were late to arrive at convention (you could even say that it's a tradition at this point!), and everyone ran to tackle-hug their friends the second they hopped off the bus. Soon, Shabbat arrived and we started to hear Divrei Torah from our 2018-2019 REB members. Each REB member delivers one at different points over the weekend. After sichot, dinner, and an improv program, USYers had the option to stay around for late-night Tisch to repeat Nachamu as many times as humanly possible.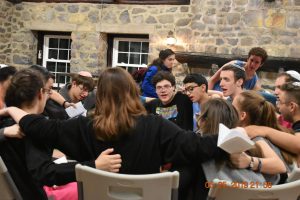 On Saturday morning, USYers had several Shacharit options before coming together for the torah service. In the afternoon, we had a variety of sicha options discussing social norms and B'tzelem Elohkim, the idea that we are all made in the image of G-d. After a quickly rained-out bonfire, there were late nights for each of the clubs USY offers – 613, Chalutzim, and Heschel, as well as the Emerging Leaders Program (ELP) late night. Sunday came quickly, and creative minyanim led by USYers grabbed the attention of all convention attendees, including Yeshiva Boys Choir, Trivia Crack, and Plants Shacharit. Later, we had an Israeli Social Action Circus, including a T.O. shuk where USYers could buy clothing donated by their friends. Finally, lunch came and went, and elections for the 2019-2020 Regional Executive Board began. In between speeches for the different positions, USYers danced and partied and even played Just Dance while waiting for votes to be counted. After each new board member was announced, "confetti" (respectfully and lovingly ripped-up brag sheets) was thrown in the air in celebration. While everyone else went to various chofesh activities, the new board had the fun of sweeping up all of the confetti and setting up the room again for the State of the Region Address and Chapter Awards Ceremony. After that, USYers jumped around at the dance, wearing themes to match with their grades.
Monday soon came, with lots and lots of tears. After the bunks were cleaned up and everyone was packed, we started the morning with Monday Shacharit Live (MSL). The MSL band stood at the front of the room and serenaded us through some of the prayers, and the ruach and energy was so strong, you could feel the floor bouncing as the USYers all jumped up and down. As the USYers calmed down after breakfast, installation of the new board started, along with the summer programs and class of 2019 send-off. By the end of the convention, there was not a dry face in the room. Seaboard is more than ready and excited for a new year to begin at Encampment 2019 at Capital Camps from August 19th-25th!
SWUSY – Joy Meyers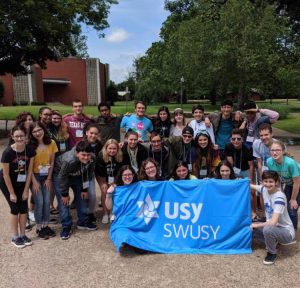 From May 24th to the 26th, SWUSY, the southwest region of USY held our regional convention in Oklahoma City for the first time in many years. The theme for the convention was Oh The Places You'll Go, the perfect theme with which to send off our seniors. We started with elections for the 2019-20 regional board and brought in Shabbat, USY-style. Friday night we also had a fun improv program which ended with everyone performing the improv game they learned.
Saturday morning we started with services and during free time we learned a new tune to Adon Olam from our old Religion Education Culture (REC) Vice President and then learned what it is like to be questioned while going into Israel by our old Israel Affairs Vice President. After Shabbat ended we made our way to the Oklahoma City Science Museum to start the banquet. We had to go to the bathrooms to take shelter during the tornado warning, but when it passed we continued with the installation of the new board and got to explore the museum.
On Sunday we had a nice brunch and ended with a slideshow of the year and friendship circle. Saying goodbye to the seniors was hard and definitely came with tears, but we are all excited to see the new board in action in the upcoming year.
METNY – Dylan Landman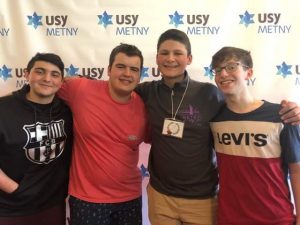 METNY USY had an amazing experience at their ancient- Greece themed regional convention. We started off the event with engaging icebreakers having old USYers get to know the new. We then engaged in a meaningful social action program that allowed us to see how struggling families have to experience financial difficulties every day. After a long day of exciting programming, we transitioned into Shabbat.
Shabbat brought in an atmosphere filled with ruach. We engaged in creative Shacharit options that allowed USYers to find meaning in prayer in a non-traditional way. Throughout the day we were involved in sichot and didactic encounters that connected USYers with each other in a meaningful way. Shabbat ended with a heartfelt Havdallah and slow ruach session. The senior class then had a late night bonfire to say one final goodbye to all. To end the night, we partied the roof off of the hotel.
The event ended on Sunday with bittersweet goodbyes from the seniors and elections. The event was an amazing end to the METNY 2018-2019 year.
ECRUSY – Sari Weinroth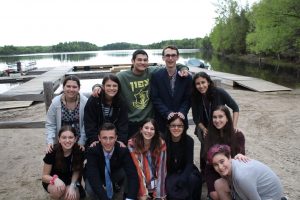 From May 30-June 2, teens from Ottawa, Toronto, Montreal, and Hamilton got together at Camp Kennebec for our annual ECRUSY Spring Convention! We kicked it off with ice breakers and Candidates Forum where the region got to know the Regional Executive Board 2019-2020 Candidates. The next day, we elected the official board for the coming year, followed by more fun programming and Kabbalat Shabbat. USYers ended the night right in a session of amazing ruach! Saturday was filled with more activities like the "Archaeological Dig" And "Hunger Games" and many more. Shabbat was ended in a beautiful Havdallah service and sing along. During the final hours of the night, the seniors said their formal goodbyes to their peers, where they shared memories filled with tears, smiles, and laughter. Sunday morning, the region sat down and watched the annual slideshow followed by the president's speech, and the official installations of our 2019-2020 REB! Finally, we officially closed after a session of slow ruach. The weekend was filled with fun, programs, and more! We danced, sang, laughed, cried, and made lifelong memories and friends, making it a convention to never forget!
Tzafon – Sophie Scheer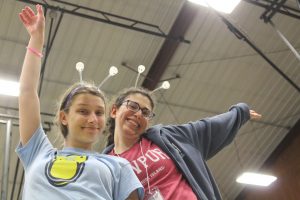 Tzafon had an awesome time at our Space themed Kinnus Gadol (regionals) at Camp Ramah in the Berkshires from May 31-June 2. We started our convention out with a candidates forum where we learned all about our soon to be Tzafon leaders and then went in to a restful Shabbat.
During our ~out of this world~ weekend we had meaningful conversations and learned about Israel in space and aliens in Judaism. We also had a blast at our dodgeball tournament and dance party! On Sunday we elected our new regional executive board, had Installations and said goodbye to our seniors. The convention was super fun and we loved making new friends and connecting with old friends.