Shabbat Around The World
Editor's Note: Since the destruction of the Second Temple 2,000 years ago, our people, the Jewish people, have been spread out in Diaspora all over the planet. Over time, the Jews of the Diaspora developed different cultures, traditions, and ways of life. Now, while we have returned to our homeland, those cultures and traditions live on. New Frontier USY's Avi Shapiro shows us what a Shabbat is like in the holy city of Jerusalem, in the first installment of his "Shabbat Around the World" series.
---
Shabbat is a wonderful thing. A day of rest and relaxation, different from the rest of the week. It is said that Shabbat is one of our oldest traditions as Jews, and also one of the mitzvot that no matter where you are in the world, you can fulfill it. These are some of my experiences on Shabbat from my time here on TRY in Israel, from time in Poland, and from other Shabbatot that I have experienced around the world. 
-Avi Shapiro
---
January 29, Jerusalem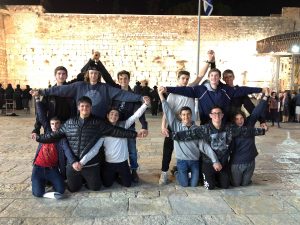 "Click. Clack. Click. Clack." Our shoes hit the cobblestone streets. "Shabbat Shalom," a stranger calls out. "Shabbat Shalom," we all reply. It was 9 AM on Saturday morning, and our group was walking to Shul for our first Shabbat in Israel. The previous night, we experienced our first Kabbalat Shabbat as a group, and let me tell you, it was exhilarating. 32 people from across North America, all with different customs and traditions for Shabbat. We quickly learned that no one tune for a prayer would suffice. No, we had to sing all of the tunes that we knew. After, we had dinner, our first Shabbat dinner in Israel: chicken, rice, and stuffed peppers, an Israeli classic. We then did Birkat Hamazon, and all went back to the dorms for the night. That next morning, we split into three groups and all headed for a different Shul. My group went to an egalitarian Modern Orthodox Shul. As we walked to the Shul, all I could focus on was the fact that besides the sound of our shoes on the road, and the occasional Shabbat Shalom, it was silent. There was not a single car on the road. It seemed like the entire city had shut down for Shabbat. I was amazed. Never would I find an entire city back in North America that completely shut down for Shabbat, and over time, this city shutdown was one of the parts of Shabbat in Israel that I grew to love the most. 
We arrived at the Shul, and luckily we were able to make the minyan for the small group of egalitarian Jews who held services in a little youth lounge of the local education center. But they didn't let the smallness of the room weigh them down. They, men and women, together, sang and prayed their hearts out, filling the room with the beautiful melodies of the Jews of Israel. 
Our group was fortunate that Shabbat, for we were able to witness something that doesn't happen very often: a baby naming. The baby's name was Hannah, and we were all so lucky to be a part of her first experience at Shul. After services were over, we joined the congregation in a kiddush lunch, and learned about their lives in Israel. Many of them were American Jews who made Aliyah to Israel over the last few decades. While most of them became more religious, they nonetheless decided that egalitarianism was very important to them, and that this Shul would be their place to pray. When it was time to leave, we said our goodbyes and bid them farewell. It was unknown to us or them, but many of us would return to that wonderful Shul in the following weeks. 
Our group walked back to Chavat Ha'Noar (a youth village in Jerusalem), our home for the semester, and joined the other two groups. We all shared our stories with one another, and learned about the different Shuls in Jerusalem. We then had some free time where most of us fulfilled a Mitzvah and just relaxed outside. Later, we prayed Mincha and Maariv, and before we knew it, Shabbat had come to an end. We all came together outside, and reflected on the week, our first week in the land of Israel. As we talked about our highs and lows, I couldn't help but think about how incredible our time was going to be on TRY, and how amazing every Shabbat would be. Finally, we said Havdallah, bid the old week goodbye, and welcomed in a new week. We all hugged each other, wished each other a Shavua Tov, and ending our first Shabbat in Israel. 
Avi Shapiro is a senior from New Frontier USY. He is a proud member of Sacramento USY (SUSY) from the synagogue, Mosaic Law, in Sacramento, California. He is currently serving as regional Communications Vice President for the 2019-2020 programming year. He went on Tichon Ramah Yerushalayim (also known as TRY, Ramah's high school program in Israel) second semester of his junior year.