Senior Reflections: Nina Robins
Editor's Note: As the 2018-2019 programming year comes to a close, graduating seniors reflect on their USY experience. Nina Robins, a proud alumna of Hagalil, writes about how USY has impacted her life throughout her travels to Israel and other incredible places. She also writes about the friends she has made and  how she is feeling as she graduates USY.
USY has grown to comprise much of my life over the past six years. It is difficult to envision a life without USY — the frequent conventions, the initiatives and programs, the discourse surrounding USYers, board, chapter dynamics, and all of the moving parts that make up our amazing movement. Reflecting on my USY experience, though, I know that I will carry USY's lessons, memories, and friendships with me throughout my lifetime.
Just as we differentiate between the holy Shabbat and our mundane routine every Saturday night at USY during the Havdalah service, USY was my holy escape from my quotidian experiences. After a long school week, I could count on a USY convention or Shabbaton to put my mind at ease; and, I could focus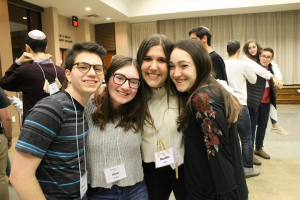 on my well-being and the well-being of others, as opposed to my next exam or errand. Even outside of Shabbat — at a weeknight chapter event or even just FaceTiming a friend — USY provided me with positivity and a happy place. These moments during which I could experience unadulterated and spontaneous joy, which was difficult to come by amidst the unpleasantness of high school, was integral in keeping myself afloat and my head high on the worst of days.
USY was important in developing my character because the leadership opportunities encouraged by USYers themselves led me to become more motivated, organized, hardworking, and passionate about causes that are important to me. I am so grateful to all the USYers before and after me who encouraged me to pursue chapter, regional, and international leadership. The board positions I held brought me closer to social action and Israel specifically, teaching me extensively about both areas and pushing me to always learn and do more good regarding them. My exposure to Social Action/Tikun Olam and Israel Affairs throughout USY flawlessly meshed in my adventures on L'Takayn Olam Israel Pilgrimage 2017, and allowed me to pursue disciplines of importance to me and the world as a young Jew. While I will never serve on a USY board again, I know I will continue my USY-inspired and cultivated work in social action and Israel throughout my professional career and home life.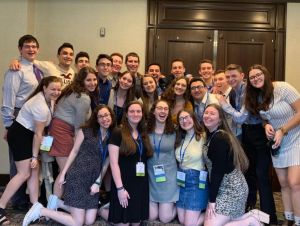 USY gifted me an escape and a purpose, both embodied by the extensive community that USY provided me with. Attending a small Jewish private school, I often found it difficult to find my specific niche and friends around whom I felt comfortable. I felt particularly lonely until I found USY. Somehow, every USYer is an almost immediate friend. Somehow, in USY, the quirky and socially awkward extroverted-introvert can be openly loved by an entire room of people. I never imagined that I would be cheered on while giving a D'var Torah or leading a program. Whenever I have felt alone in school, my regional and international USY friends have been a haven for me and have allowed me to still feel comfortable around others my age. My USY friends have supported me through every task, in every location, on every day of the week, and at every hour, no matter how late. I receive nothing but loving encouragement from them. I am so inspired by all their positive contributions to both USY and my life over the years. USY and USYers have pushed me to become a more outgoing, selfless person both in and out of USY.
I will always carry my USY friends with me, far beyond high school, because I know the friendships I have forged here will last a lifetime. USY has changed me for the better, and even as an alumna, I will always remain a USYer.
Nina Robins is from Hagalil USY (she's from Hagalil!), and is graduating this year. In the Fall, Nina will be attending New York University.