Senior Reflections – Morgan Isbitts
Editor's Note: Hey, Achshav! I think we can all agree 2020 has been a weird year for all of us. It's easy to point to the negative aspects of the year, but as Morgan Isbitts does in the following article, we will choose to look at the positives.
---
Since 6th grade, each year of USY has been more amazing than the last. I noticed this trend by 8th grade, and though I've received lots of sympathy in the last few months from family and friends, it still rings true.
I understood the sympathy in the beginning; when I first learned that my prom, graduation, and last regional convention would all be canceled – I was disappointed. Additionally, I was not looking forward to spending several months in quarantine, constantly looking for things to do. But as it would turn out, this ended up becoming the best and most impactful year of my USY experience.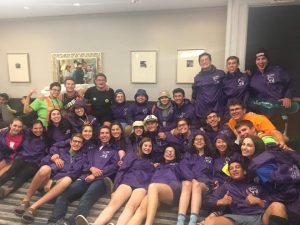 I expected to lose touch with my USY friends –  I said goodbye to my international USY friends at IC, and since my Spring Regional Convention was canceled – I anticipated falling out of touch with my regional USY friends as well. And while I cannot be with my USY friends physically, I've never felt closer to them. Since the start of quarantine, I've made countless calls to USY friends from across North America – some of whom I wasn't even that close with before. I've started using Netflix Party to watch anything from Tiger King to Cloudy with a Chance of Meatballs (kosher meatballs, of course) with my friends. I've been able to join programs hosted by other regions, which I could not have done pre-quarantine. I've attended Zoom birthday parties – and honestly, some of the activities are more creative than those we would partake in at in-person birthday parties. I have even made entirely new friends that I now talk to on a daily basis. And that's the beauty of USY. You can be doing absolutely anything, and as long as it's with your friends, you'll be having a blast.
This was prevalent throughout my whole senior year – not just during quarantine. My most vivid memory from my Regional Board Retreat in August was that whenever we entered the van we would drive in, our Regional Board turned into a professional acapella group. One of the best parts of my Regional General Board Weekend (referred to as LTI in several regions) was making food out of play-doh and pretending to feed it to my friends.
Another perfect example was IC SoCal. Despite facing jet-lag and some cold and rainy weather, I had the time of my life. And my favorite parts of IC were not specific programs. They were the conversations I had with people on bus rides. The hugs. The contests to see who could pull the most thread off of their name tag ribbons.
I want to give an honorable mention to one non-technological method of communication that has saved me this quarantine – writing. I've been journaling more than ever, as well as writing short stories and plays. But I've also written letters to friends, which is not something I've had much time to do during high school. To any USYers from the Class of 2020 reading this, I know it sucks that you won't be able to give your friends a proper goodbye. So do them a favor, and give them the most tangible form of sentiment you can offer them right now: a letter. Write about how much fun you had with them at Zoom prom. Remind them of the first and greatest conversation you had in the bathroom at a convention. Tell them how much you've missed them and include stickers or printed out photos, if you have them. Think outside the box, because your USY friends deserve that much.
It was after IC SoCal that I decided to join Nativ 40, a group with whom I've also bonded through video chat and who I'm now even more excited to spend a year in Israel with. If you asked me a year ago if I wanted to go on Nativ, I would have confidently said no. But plans change, and change helps us grow. So to anyone who has expressed their condolences for my "ruined" senior year – I appreciate the thought, but I'm not sad about it. This sudden change in lifestyle has turned me into a baker, a painter, and a writer. It's turned a jam-packed schedule into time to reach out to USY friends and reflect on my mental health. It's turned strangers into friends, and friends into best friends. So I will not let the sympathy get to my head; instead, I will come out of senior year stronger than ever, with an infallible and incredible support system.
---
Morgan Isbitts is a member of B'nai Aviv's BAUSY in HaNegev USY. She is a former Israel Affairs International General Board Member and Regional Israel Affairs Vice President. In the Fall, she will begin her year on Nativ: USCJ's College Leadership Program in Israel. She then plans on attending Northeastern University.