Senior Reflections – Maya Silberstein
Editor's Notes: Quarantine got you bored and in need of a good read? Well, look no further, because Achshav is back with our Senior Spotlight Series for the Class of 2020. In our first edition, Maya Silberstein, a senior from Far West USY, discusses her USY journey and the impact USY has had on her life.
---
As I'm looking back on my time in USY (and writing about it!), I'm realizing something. When I first joined, my belief was that to succeed in USY, you needed to fit into certain categories. You needed to be popular, you needed an infinite amount of friends, you needed to be a leader, you needed to go to sleepaway camp, and you needed to be a perfect Jew, among many other factors that make you a USY poster child.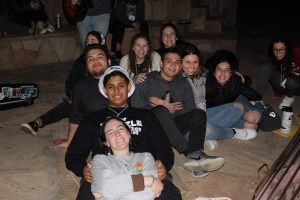 During my sophomore year, at my first Far West Regional Convention, I went into the weekend with those exact misconceptions. I hid, mortified that my limited knowledge of Judaism, obvious lack of friends, and overall personality was going to deter my forming connections with the people around me. To my surprise, the amount of love and compassion that I received that weekend sparked something in me, and I had a feeling I'd be back. As I kept attending more events, making new friends, and learning beyond what I ever thought I was capable of, I began to feel more comfortable in the USY community, and I wanted to keep contributing. I opened up and let people see who I am, both the good and the not-as-good aspects of myself. I eventually applied for RGB, ran for cabinet (#justfarwestthings!), and put myself out there, eager to meet as many USYers as humanly possible.
Now, fast forward to today, I'm stuck in quarantine, and what's better than sitting with your own thoughts and contemplating life, right?! I started thinking about my friends, my time serving on cabinet, and my rollercoaster of experiences that have taken place ever since my first event. I've met countless people, I never perfected my Hebrew-reading skills, I could've done more for my community, and Hashem only knows the amount of sleep I was deprived of! I laughed, cried, screamed, jumped, and let my energy out completely when I was around USYers. Now I understand that in the long run, none of it matters. I can tell you for a fact that I'm not best friends with everybody I've come into contact with, I never went to camp, and I'm not even close to learning all of the prayers that most USYers can recite in their sleep. What I am, though, is me, and I'm embraced for it– that's what made my time in USY unforgettable.
---
Maya Silberstein is a Senior hailing from Southern California. A member of Far West USY's Temple Etz Chaim, Maya is currently serving as the Far West Regional Israel Affairs Vice President.