Senior Reflections – Harris Jayson
Editors' Note: Hey, USY! Today for you, we have a Senior Reflection written by Harris Jayson. In this latest Senior Reflection, Harris discusses how USY has been his home throughout his high school career, along with advice he has for all USYers.
---
From kindergarten through eighth grade, I went to a small Jewish Day School in Voorhees, New Jersey. I went to school with the same 20-or-so kids for nine years, and then we all dispersed to various high schools, private and public alike. Upon graduating, I knew I wanted to continue my involvement within the Jewish community, and make even more Jewish friends throughout High School. This is where the notorious RBG (AKA Reena Bromberg Gaber) came in. As middle school was nearing its end, Reena told me about this organization called USY. I was a little skeptical at first, because as much as I wanted to make new Jewish friends, I was nervous about the idea of meeting so many new people that were not associated with a Jewish Day School or camp. Fast forward four years and here I am… with so many friends who helped experience the best memories of my entire life: attending my first Mizarch convention. IC Chicago. My first Fall Board Weekend with a 16.5 hour Allocations Meeting. My first Mizrach convention on Regional Executive Board. IC Orlando. Being re-elected. Experiencing an Encampment on crutches. IC SoCal…
…and just like that, I am a USY has-been.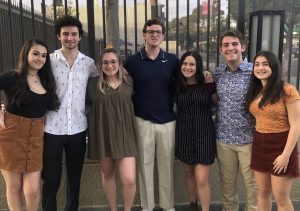 So many people have asked me, "Were your leadership opportunities and titles worth the time and work? Were your prayer-filled conventions fun?" And my answers to them would be yes, I loved every moment of my prayer-rich educational-and-fun conventions. I learned so much about myself, others, and the world while being on Regional Board for the last two years as Social Action/Tikun Olam Vice President. I would not give up any of my time in USY, because I loved and will forever cherish every single moment of it. All I ever needed was right here in USY.
As we all are very much aware, 2020 has not been the sweetest to us, especially to the Class of 2020, when it brought along the coronavirus. We lost many regional events, Prom, sports, and our (for some of us, last) Spring Conventions. No one ever thought things like those would be taken away so quickly and easily. Spring Conventions always bring smiles, laughs, cheers, and tears. We smile and laugh with our best friends, cheer for the newly elected REB, and scream at the top of our lungs during ruach because it is the last ruach session of the school year. Then we cry because it is the last convention of the school year, which means we have to wait until the Fall for the next Regional Convention. It also means we have to say goodbye to our departing seniors. Now I am that graduated senior who, like the rest of the Class of 2020, was not able to have those final smiles, laughs, cheers, and tears with my best friends next to me before we move on in our lives. Maybe we will all miraculously sit in a large circle one day soon like the ones my grade made at IC Orlando and SoCal to sing to our hearts' content through slowach one last time.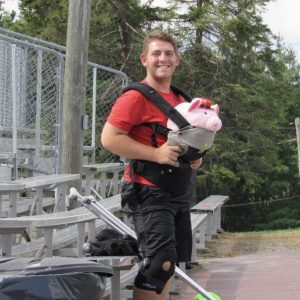 So USY, let me leave you with this, as my time in USY has come to an end: do not, and I really mean it, do not take anything for granted. Our time in USY is so precious because there are only four (excuse me, five years, if you're like us in Mizrach) years to experience everything this great organization has to offer. There is nothing more special than USY. If you joined USY as a Sophomore or Junior, don't worry, because there is still so much to experience in what seems like a short amount of time. The programs, events, services, and so much more that the staff, REB, and IEB plan are meant for all of you, and for future USYers. Not every high schooler is able to embrace their community, and know that feeling of family that USY brings. Without USY (and Reena for getting me involved), I would have never met my best friends who live all across North America. The connections I made are so strong and will be even stronger once we all go our different ways in the Fall, because of the bonds we formed at Regional and/or International Conventions. It's not every day when you can crutch around an encampment with a baby carrier on your chest with a stuffed piggy bank inside asking for money to donate to Tikun Olam with your best friends. Thank you USY for that, and for everything else.
---
Harris Jayson is a member of the Class of 2020, and served Mizrach USY as Regional Social Action/Tikun Olam Vice President for two years. He is a soon-to-be student at the University of Pittsburgh.