Senior Reflections – Brad C.
Editor's Note: Hi USY! Today marks the beginning of Senior Reflections – for the next few weeks, we'll hear from seniors across USY who will share about their past four years in USY and how it impacted them. Our first Senior Reflection is from Brad Chavin, from HaNer USY.
---
!שלום
I started going to USY events in the third grade. I thought of it as a place that my parents would send me every couple of Sundays to go to activities like snow tubing, with people that I did not really know. My mindset changed when I went to an overnight event that my mom signed me up for early in my freshman year. It turns out it was HaNer USY's Freshman Kinnus, which to most symbolizes the beginning of one's USY career. It is also the event at which I met ALL of my friends. Since that point, I have gone to all of HaNer's regional events, as well as all of my chapter events. I have also served as SA/TO Vice President of my chapter, and during my senior year, I had the huge honor of serving as President of Temple Emanuel's USY Chapter. While it's been tough not seeing my friends in person, the USYfi virtual programs, especially Branch Three's virtual conventions, have been fantastic. Through these virtual events, I have even had the opportunity to meet people from different regions, which has been excellent!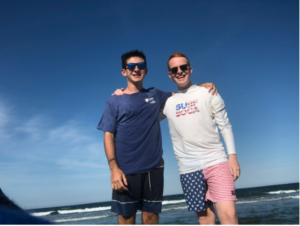 USY has allowed me to feel more spiritual and more connected to my faith. Whether it be ruach, sloach, or Saturday morning services, I can say without a doubt that I feel more connected to Judaism because of my great experience as a USYer.
I can unequivocally say that USY changed my life. I met my best friend Eyal through USY, and I am fortunate to have him. My USY best friends have been with me throughout my entire high school journey, and I am eternally grateful for their tremendous support. USY has also given me the ability to be a leader. In addition to attending HaNer's annual Regional Leadership Convention, planning and running events for my chapter has taught me many lessons on how to effectively run an organization, which I has helped to prepare me for college and beyond.
To the HaNer Seniors and the rest of my HaNer Family, thank you so much for everything – you have truly had such an extraordinary impact on my life, and for that, I am eternally appreciative!
As Walt Disney used to say, "We keep moving forward, opening new doors, and doing new things, because we're curious and curiosity keeps leading us down new paths."
תודה רבה על הכל
---
Brad is a graduating senior from HaNer USY. He spent his time participating in his chapter, Temple Emanuel USY, and served as Chapter President this past year. In the Fall, Brad will be attending Boston University.