Senior Reflections: Josh Crowley
Editor's Note: Today, as we continue through our series of senior reflections, we bring you the story of a USYer who has dealt with his fair share of struggles throughout his USY career; he persevered, and he now has the honor of being one of your International Convention Co-chairs for #ICSoCal! HaNegev's Josh Crowley shares the story of how his tribulations led to his triumphs.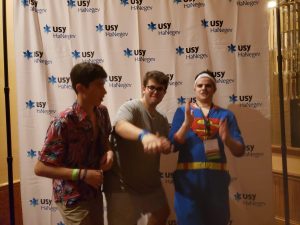 Sitting down to write this was definitely a struggle because it means that my time as a HaNegev USYer is over. HaNegev and USY as a whole have played such a massive part in my middle school and high school life. Even though I still have two more conventions to attend, I am incredibly sad that my time in USY is coming to an end, but I am beyond happy that I was blessed with the opportunity to make so many amazing memories and meet so many outstanding people, many of whom I am honored to consider best friends. I have USY to thank for so many of my closest friends. This movement has played such an important part of my life since 5th grade when I joined my chapter's Jr. Kadima, which I was instrumental in the creation of. Since then, I have attended four Kadima conventions and 21 USY Conventions. USY has helped me learn and grow to become the person I am today. As one might imagine, there are not that many Jewish people in Nashville, Tennessee. There are only 5 Jews in my grade of about 400 kids. USY has given me an absolutely wonderful way to connect to hundreds of other Jewish teenagers.
From co-chairing Fall Sub-Regional convention my Freshman year, to attending my first International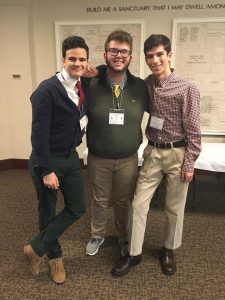 Convention opening session, to cramming eight people into my bedroom to sleep during spring Sub-Regional convention, I have made so many amazing memories in USY. All of these memories have something similar, and it isn't the fact that they took place at USY events. It is the people that I was surrounded by that help make these memories stand out. These people make life so much better, and I know getting through high school would have been 100000% harder without the most amazing Jewish teenagers in North America.
USY has helped me grow so much. When I first joined, I was that guy that wasn't comfortable reaching out to and talking to new people. I often found myself talking to the same few people and if I wasn't talking to them then I kind of just sat off to the side silently. USY helped me become more comfortable talking to people, though. It gave me the confidence to lead services, run for leadership positions, and branch out to new people and make new friends. I've learned so many things – from how to lead services to leadership skills – during my time in USY, and I'm incredibly thankful. I want to give a quick shoutout to HaNegev RTED, Stephanie Nichol and all of the staff at conventions for being amazing and giving up their weekends and dedicating their time to help the Jewish youth have a great experience.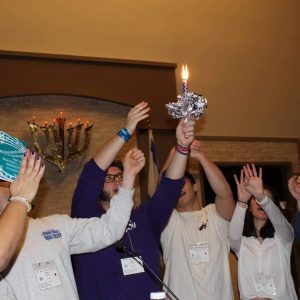 One of the best lessons I've learned in my time in USY is not to give up and to keep going. Since I was a freshman, I had the dream of making a positive impact on this tremendous organization, but it wasn't that easy. I lost an election for chapter president twice, was rejected from Regional General Board, and wasn't picked to be Regional Convention co-chair. I didn't let these setbacks stop me from achieving my dream of making an impact. The quote, "One question is always relevant: How can I use this to move forward?" from Rebbetzin Tziporah Heller amazingly sums up my experience. I learned from these experiences how to better myself when it came to attitude, speech writing, and application creation. I really do not think I would be the same person I am today without these "setbacks". They really helped me grow as a person, and I probably would not be in my current position without them. I am incredibly happy that these experiences happened, because they taught me to see the positive side of every situation and to grow.
Two of my favorite conventions I've ever been to have been the past two International Conventions. This year's International Convention, IC SoCal, is about to be the most lit IC in history. I have the privilege to be one of your co-chairs for this amazing convention. I highly recommend everyone sign up. You will have the chance to meet so many extraordinary Jewish teens, (re)connect with friends outside your region, and take part in some amazing programming that can't be matched anywhere else. I don't think I can stress enough that everyone should go to International Convention – it is truly life-changing.
I want to leave you with a wonderful quote from Rabbi Menachem Mendel Schneerson: "When you waste a moment, you have killed it in a sense, squandering an irreplaceable opportunity. But when you use the moment properly, filling it with purpose and productivity, it lives on forever."
Thank you for coming to my TED Talk.
Josh Crowley is a senior and proud member of MTUSY in Nashville, Tennessee, part of the Ein Gedi Sub-Region of HaNegev USY. He recently finished his term as Sub-Regional Vice President, but get ready to see him December 22-26th in Southern California, as he serves as one of the 2019 International Convention co-chairs.