SA/TO Scoop – September 2019

#MYUSYSUMMER HIGHLIGHTS
Shalom USY,
I hope everyone is easing back into school peacefully. Summer '19 was one for the books! This year, USYers who participated in USY summer programs achieved incredible Social Action feats.
USY on Wheels Bus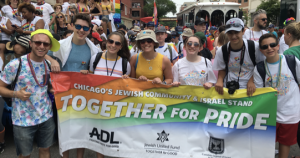 B was the first Wheels Bus to lead a composting initiative – the bus composted over 200 pounds of food scraps all across North America!
USY on Wheels Bus C participated in the San Francisco AIDS Walk and marched in an LGBTQ+ pride parade, met 5-year-old activist President Austin, and packed clean underwear for people in need with Undies for Everyone.
USY Israel Pilgrimage Group 2 – L'Takayn Olam, USY's Social Action-based pilgrimage trip, spent the entire summer making a difference all across Israel. Whether it was spending time with patients at Ruth Rappaport Children's Hospital, caring for animals at the Haifa Educational Zoo, volunteering with children at Ofakim, a school for children with special needs, or playing games with children of asylum seekers in Ketura, they truly spent the summer repairing the world!
USY Israel Pilgrimage Group 5 learned about animal-assisted therapy in Israel before painting the hallways of an apartment building in the city of Sderot, an area known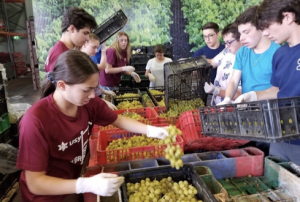 for being a target of rocket attacks from the Gaza Strip.
USY Israel Pilgrimage Group 4 sorted fruits and vegetables at Leket Israel, a surplus produce packaging facility that donates food for homeless people.
DREAM USY built a volleyball court for the Cuesta Barrosa community in the Dominican Republic.
Each USY Summer Experience brought opportunities for USYers to engage in kehillot (communities). Social Action means getting our hands dirty and helping those less privileged than us! I am so grateful for the community service I took part in on my summer trip with USY. On USY Israel Pilgrimage Group 3, my friends and I packaged food for disadvantaged families at Lev Ramot and provided assistance at a therapeutic horse farm.
It's so rewarding to see the impact of your actions in a tactile, quantifiable way. I encourage each of you to sign up for the summer of your lifetime at usy.org/escape!
B'ahava,
Michael Pincus
Social Action/Tikun Olam International General Board 2019

ALLOCATIONS MEETING 2019
On September 1, delegates from every USY region assembled at Fall Boards Weekend in Newark, NJ for the annual Allocations Meeting. Regional Presidents and SA/TO Vice Presidents, as well as the SA/TO International General Board and International President Noa Kligfeld voted on which organizations USY's Tikun Olam money will benefit.
As always, 40% of the T.O. fund was allocated between 65 potential organizations, 40% is of the fund goes toward scholarships for USYers, and 15% goes toward operations. Each year, the Tikun Olam Fund Committee gets to decided where the remaining 5% of the fund is allocated. This year, the committee chose to allocate the entire 5% to the Hannah Weiss Hasviva Shelanu Program – a fund to provide opportunities for USY to become more sustainable. The meeting lasted 11 hours.
Quotes from this year's Allocations Meeting:
"Allocations was a really powerful experience for me because it was a moment where I felt that the teens of USY were genuinely creating positive pathways through this organization." –Eitan Weinstein, Emtza President
"I felt I truly bonded with all the other SA/TOs and more importantly, became more educated on the communities and organizations in need." –Alexa Grines, Far West SA/TO VP