SATO Scoop: February

Welcome to this month's edition of the SA/TO (Social Action/Tikun Olam (repairing the world) Scoop from International USY SA/TO Committee, featuring the updates on social action and sustainable living initiatives and programs.
Meet the SA/TOs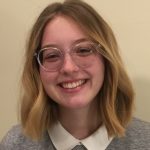 I'm Emily Rosenberg and you can find me collecting coffee table books, doing crosswords, or dreaming about moving to a farm in Israel. This year, we will learn how to make our actions louder than our words. We will work tirelessly to ensure that our Tikun Olam money goes towards organizations that positively impact our local and global communities.
I'm Hailey Figur from the mighty HaNegev region. I'm so excited to be working and serving our USY communities on the Social Action/Tikun Olam IGB! You can usually find me listening to John Mayer or Chance the Rapper… while working on USY! I'm so excited to see what incredible change USY makes this year!
I'm Zach Greenwald, and I'm from the region that started it all, EMTZA! This year I'll be serving as social action point person on the SA/TO IGB. When I'm not with USY you can catch me on the dance floor, or studying away in my room. I love taking bubble baths, watching Gilmore Girls, and making heavenly crepes. I'm excited for the next year and I can't wait to see what it brings.
I'm Izzy Levy and I'm from the poppin' Pinwheel region! When I'm not at a USY event, you'll probably find me doing theatre, eating Thai food, or watching The Office. I am so incredibly honored and excited to be serving on your SA/TO IGB as the TO point person. I hope to help everyone love, appreciate, and become their own SA/TO this year!!
I'm Anat Pissetzky and I am so excited and honored to serve on the 2018 SA/TO IGB to help better the world around us! I love funky socks and Houseparty-ing with my international USY friends. I can't wait to change the world with each and every one of you!
Green Speaks
Green Speaks is a new social action initiative to promote clean living. Its purpose is to show you, the USYers, how easy it is to live a life that is both enjoyable and environmentally sustainable. We hope you enjoy this new access to green & clean living!
"I love composting because it's something really easy to do and you can see the physical impact your actions have on the environment as it decomposes outside! There are tons of things you can compost instead of throwing away or even recycling and once you start, it becomes a simple yet fulfilling habit. I highly encourage everyone to give composting a try because even one person composting can have a positive effect on the environment around them!"
– Mirah Gordon, SWUSY Regional SA/TO
Program Highlights
Each month we will be highlighting a program from a USY event that was engaging and meaningful. You can bring these programs back to your communities as is or with your own spin!
This month we're highlight EMEK, a division of METNY USY.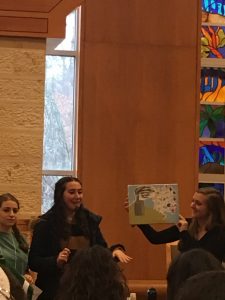 Emek Divisional Kinnus Program is an opportunity for USYers to learn about and discuss an environmental topic they're passionate about or interested in; with the end goal to create artwork depicting the topic, everything learned, and ways they can get involved.
At EMEK Kinnus, USYers talked about ocean conservation, sustainability, endangered animals, air pollution, and climate change. Group leaders were armed with a resource sheet and videos to help start the conversation and provide reliable information.
The discussions, guided by planning out the artwork, were engaging and informative as USYers learned from each other and the resources. EMEK dedicated this program to Hannah Weiss (z"l), a former USYer, to keep her legacy alive, so each group decorated a canvas as part of a larger mural that we donated to the Weiss family's synagogue.