SA/TO Scoop – December 2019

GET INVOLVED BEFORE THE NEW YEAR
Shalom USY,
With #ICSoCal quickly approaching, so is the (goyish) New Year. But don't fret — there's still a ton of ways you can make an impact before we say goodbye to 2019. Here's some brief inspiration on things you can do to fulfill Tikun Olam:
– Make a charitable donation. Sure, this seems pretty mainstream by now, but organizations you care about can always use some extra moolah. Maybe it's a research center to find a cure, a presidential candidate you feel represents you, or USY's own Tikun Olam fund.
– Make one sustainable change. It's easy to make one tiny tweak to your life to make a big impact. Try replacing your plastic toothbrush with a bamboo one, timing your showers (you can do this with music), or thrifting your clothes for the holidays instead of subscribing to fast fashion sales.
– Educate yourself! You gotta know the basics to back up your passions with the facts! Research the social or political issues that matter to you, from gun violence to mental health stigma. Then, educate others! One way I do this is by posting current events on my Instagram Story. Education matters.
– Drive less. Hitting the driving age comes with some awesome freedoms. That being said, traffic causes so many greenhouse gas emissions. Try carpooling to school, skipping that unnecessary errand run, or using public transportation. I've been getting rides from my dad to school some days so that we don't always take the extra car out of the house.
I believe in your potential to squeeze out those last-minute good deeds! Or… make it a resolution for 2020!
B'ahava,
Michael Pincus
SA/TO IGB '19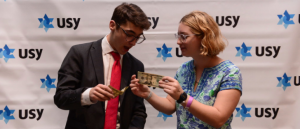 COIN CHALLENGE
Coin Challenge is a big tradition at International Convention, and you bet your latkes it'll be back for #ICSoCal! Regions will face off to raise the most money at IC, so make sure to bring cash for Tikun Olam! Talk to your Regional SA/TO VP to ask how you can help your region succeed. And remember to keep the spirits high! Coin Challenge is a competition, but in the end, it's all about the impact we create together.
Quotes from the 2019 SA/TO IGB:
"IGB was a truly remarkable experience. I was able to open USY to a new definition of SA/TO, including new ways for us to approach it." –Sarah Zipkowitz, METNY
"It is inspiring to know that not only did I do my part in engaging in Social Action, but I helped others also achieve their full mensch potential." –Nava Wolfish, ECRUSY
"Serving on SA/TO IGB helped condition me to be a leader, but more importantly a more thoughtful changemaker with an ignited passion for our עולם." –Michael Pincus, HaNegev
"My IGB term has been a unique opportunity to develop USY's vision of Tikun Olam and help those who are dedicated to T.O. do the same." –Max Walker, Emtza