Ruach n Roll: The Elite Eight!
Welcome back to Ruach n Roll! Today, we are presenting… The Elite Eight: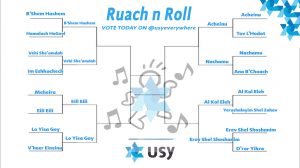 We asked USYers to share what makes the songs they voted for special – here are some of the highlights!
"B'shem Hashem is the first ruach song I learned at my Freshman Encampment!" – Abi Cohen, Hagalil
"Hamalach Hagoel is my favorite song of all time!" – Austin Kaufman, Far West
"I love the backstory of Eili Eili, how Hannah Senesh wrote it as a poem" – Bayle Goldman, SWUSY Alumni
"Acheinu was Bus B 2017's nightly song!" – Ben Miller, Mizrach
"D'ror Yikra is so underrated! Not enough people know it, so not enough people can love it!" – Pnina Sasson, HaNegev
"I love the English part of Erev Shel Shoshanim – and my name is Shoshana and this is my song." – Shoshana Scheinberg, Hagalil Alumni
"The line אל תשכח את התקוה is so meaningful to me" – Sari Weinroth, ECRUSY
Go to @usyeverywhere on Instagram to go vote for the next round and share your thoughts with us! And of course, if you need a refresher on any of the songs, check out this playlist below.