Ruach n Roll: The Championship!
Welcome back to Ruach n Roll! Today, we are presenting… The Championship: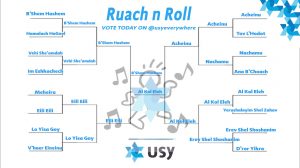 We asked USYers to share what makes the songs they voted for special – here are some of the highlights!
"B'shem Hashem was my Wheels song and brings back so many happy memories! #ATeam18″ – Deborah Gerofsky, METNY
"The humming in Eili Eili >>" – Morgan Isbitts, HaNegev
"Al Kol Eleh is my FAVORITE song! I love just about all slow ruach songs, but there's something about this one that gives me a different feeling. Its sweet, meaningful message really touched my heart, and singing Al Kol Eleh brings me so much joy and puts me at ease. I absolutely love getting to sing this beautiful song with my USY friends!" – Miranda Price, METNY
Go to @usyeverywhere on Instagram to go vote for the next round and share your thoughts with us! And of course, if you need a refresher on any of the songs, check out this playlist below.