Regional Spotlight: SWUSY
Editors' Note: *To the tune of Old Town Road by Lil Nas X* I'm gonna take my horse to the old South West (USY)/ I'm gonna buy 'til I can't no more/ They've got the best senior auction/ Hailing from branch 6/ Cowboys all around/ Got a cactus on the ground/ NOLA, Texas, Oklahoma/ They got it going on. [Yes, we realize we skipped a couple lines. No, we don't care.] If you haven't figured it out by now, in today's regional spotlight, SWUSY's Joy Meyers tells us about SWUSY's amazing senior auction at their Fall Kallah. Yeehaw!
---
Walking into a SWUSY convention may seem pretty normal, but you will soon notice something. Not only do we have a REC (Religion/Education/Culture) Vice President, and also say "Yee-haw!" a lot – one thing that SWUSY does that is unique is Senior Auctions at Fall Kallah. Every Senior brings an item or an idea to auction off. One example of an auction is a Senior reading bedtime stories, but the real big ticket items are always food. Cake, cookies, cupcakes or even chocolate covered pretzels. Truly any sweet you can imagine has sold for a lot of money, with the money going to the region. We even have everyone on SA/TO RGB help out with counting the money to make sure we get it all.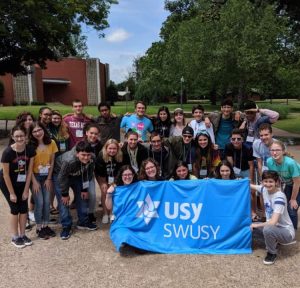 Everyone – Kadimaniks and USYers – is always excited to see what is being auctioned off at Kallah. Some senior auction highlights have included planning and throwing a party anywhere in the Southwest, and if multiple people buy it, multiple parties are planned. Someone once baked 300 cookies to sell. One auction item I remember was a personalized onesie, since our region has an obsession with onesies.
USYers plan for years what amazing auction item they can think of. Also, people pull their money together and even buy things as a cabin, like the aforementioned bedtime stories. I have been racking my brain since my Freshman year trying to figure out the best auction item possible. It has led me in many directions, but during my Sophomore year, I finally thought of one – and it has stuck with me. I can't wait to do it this year!
On the schedule we have a specific time-slot to redeem the item, but even if there is a specific time to claim your winnings, some auction items are claimed earlier or later. Bedtime stories would have to wait for before bed while a party would happen later in the year, or even the new year since Fall Kallah is usually held the weekend before Thanksgiving.
Our SWUSY senior auction is a unique and fun way to let the Senior Class shine at their final Fall Kallah. It is something everyone looks forward to all year and we never know what it will bring. Timeless and priceless memories are made at the Senior Auction every year, and I can't wait to see what happens when the auction items are redeemed this year.
---
Joy Meyers is a senior from SWUSY (South West USY). She is a proud member of HOUJEW in West Houston, Texas. Joy is currently serving as regional Communications Vice President.