Regional Spotlight: Mizrach
Editors' Note: From greater Philadelphia born and raised, in the synagogue is where Mizrach spends most of its days, they don't eat cheesesteaks unless they are vegetarian (because they're not kosher), but love Wawa hoagies are Eagles games. Still proud of their 2018 Super Bowl Win, Harris A, Reena BG, and Harris J bring you the incredibly amazing (PSA: Reena wrote this, and might be biased ¯\_(ツ)_/¯) region that is the Mighty Mizrach USY.
---
A long, long time ago two regions existed named "Hagesher" and "EPA." The Philly and South Jersey region merged with the Eastern Pennsylvania Area region to form the infamous "EPA/Hagesher." And then in the matter of a year, the new amazing region that we now call Mizrach was born. "We started from the bottom, now we're here," literally. We continue to grow and expand and welcome new friends and family into our community.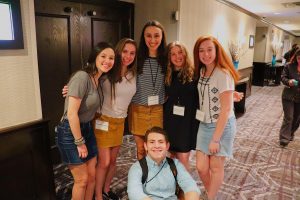 When we started the Mighty Mizrach region (as we like to refer to ourselves), we were concerned with how everything would work as we came together as one. After our first event as a merged region, we immediately formed close and engaged bonds with each other. No matter where we go, we will always have a friend from Mizrach nearby. We're very proud of the inclusiveness of our region. We make sure that no one gets left behind, and everyone is part of our close-knit family. First-timers are instantly enveloped in our loving and caring community, and have new friends by the end of the event. And we proudly have 8th graders as full-fledged USYers, who are among our strongest leaders and our most engaged USYers.
Since we don't live very close to each other and don't get to see each other often, each convention is like a mini family reunion. Every convention begins with excited hugs and exchanges of "what's up?!" and "I missed you soooo much!" The middle is filled with old traditions from EPA and Hagesher, and new traditions that we form together; for example, a Mizrach convention is never complete without a mosh-pit rendition of "Living On a Prayer," a song that by the end of our five years, seniors know by heart and our SA/TO collection container is a stuffed pig named Treif (aka is not kosher). Conventions always end the way they started: with big hugs and "I can't wait to see you again soon."
We're very excited to celebrate Mizrach's second birthday in November, and celebrate everything that makes our incredible region unique. We'll leave you with final closing words from our regional song that show our infectious Philly ruach and regional pride; "Mizrach Aye, Mizrach Aye, were the best in the USA!"
---
Harris Albuck is a junior from Mizrach USY. He is a proud member of Bucks County USY (BUSY) in Pennsylvania and is serving as regional Communications Vice President.
Reena Bromberg Gaber is a senior from Mizrach USY. She is a proud member of Bucks County USY (BUSY) in Pennsylvania and is serving as regional President and as Achshav Coordinator on Communications International General Board.
Harris Jayson is a senior from Mizrach USY. He is a proud member of Temple Beth Sholom USY (TBS) in Voorhees, New Jersey and is serving as regional Social Action and Tikkun Olam Vice President.