Regional Spotlight: HaNegev
Editors' Note: It is fitting that the southeast region of USY is named after a desert. For northerners like the Achshav Blog Coordinators, the "winters" of HaNegev are basically the same as our summers. HaNegev, of course, doesn't care what other regions think. Spanning 3 subregions, 8 states, and hundreds of members, HaNegev USY has some of the quirkiest traditions of any region. Their own Shaina Smith writes today about their beloved mascot HUSY, and the impact HUSY has on HaNegev throughout the year.
---
Picture this. USYers from all over the southeast region, HaNegev USY, are gathered snacking on some spooey while discussing who will have the honor of housing our beloved mascot HUSY for the next year. Each person makes their argument. One boy says that he has the perfect backyard for HUSY to roam around and have plenty of room. Another girl thinks that she deserves HUSY because she has other animals that can keep HUSY company. After what seemed like 40 long days and nights of bickering, one boy spoke for the first time and said that he had a brilliant idea. He said that we must host a competition to decide who is the most worthy of hosting HUSY. The competition will take place for one whole year and the winner will be announced at the final convention of that year. And at that moment HUSY competition was born.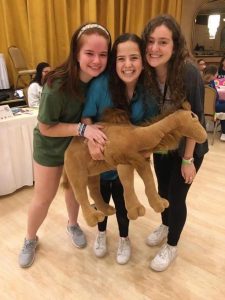 Each year, our 3 subregions (Arvot, Mercaz, and Ein Gedi) compete in HUSY competition in order to win the honor of having our mascot, HUSY (a giant stuffed camel), for the next year. The 3 subregions can earn points by members participating in social media challenges, leading services at conventions, attending online LTI's, and much much more. This competition has enlisted a great deal of pride within the subregions. Along with subregional pride, HUSY competition gives the subregional boards the opportunity to interact with members of their subregion by encouraging everyone to participate and get hyped about winning HUSY.
Last year, Mercaz wiped the competition away and now HUSY is living with our current Mercaz Subregional President, Jamie Bielski, after 7 years of switching between Arvot and Ein Gedi. HUSY travels to conventions with Jamie and is happy to be back in the Lev of the 'Gev after so many years! The Subregional boards are busy at work this year hoping to prove to the region that they are worthy of hosting HUSY next year!
---
Shaina Smith is a senior from HaNegev USY. She is a proud member of COSUSY (Congregation Ohev Shalom) in Maitland, Florida. She is currently serving as regional Communications Vice President.