NOAM Olami: Onward and Upward
A USY alumna on her summer experience with NOAM Olami and Onward Israel
By Jasmine Hubara
On a particularly hot, sunny day in June, I entered an apartment just past the shuk  (open-air market). This is where I was going to call home for the next month and a half.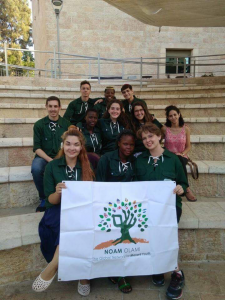 Eight other people from all over the world unpacked their things with me, starting a journey that I know would last longer than any of us expected.
We were all participants in the Onward Israel NOAM Olami (think USY but outside of North America) summer program.
Selected to represent our home countries as leaders in the Conservative/Masorti (the non-English word for Conservative) movement, we came together in Jerusalem to learn about Conservative Judaism and NOAM Olami, participate in daily leadership training, and take on an internship.
Onward Israel participants have internships in different fields, but choosing the joint program between NOAM Olami with Onward Israel gave me an experience different from any other Onward program.
I got that same internship experience, but was also able to learn about global Conservative Judaism and do leadership training to bring back to my USYers at home.
I grew up in the Deep South (hi, HaNegev!), where there weren't very many Jewish people in my town, let alone Conservative Jews.
While staffing International Convention in 2016, I met some of the NOAM Olami representatives. They told me about an incredible experience; spending a summer learning about Conservative Judaism in the land we all love- Israel.
I applied and was overjoyed to spend my summer with Jews from all over the world.
Over the six weeks I spent with NOAM Olami in Jerusalem, I met Conservative Jews from Australia, Uganda, Ukraine, France, the United Kingdom, and Israel.
The connections we formed stemmed from our shared love of Judaism. I lived and learned with people just like, yet so different, from myself.
Most importantly, our similarities stemmed from our shared religion, despite coming from so many different cultures.
For example, during Kabbalat Shabbat services in our apartment on Friday evenings, we all sang the same tunes, even with the Ugandans who led prayers in their native language of Luganda.
At our Shabbat dinner table, we had traditional challah and ate Ukrainian potato salad. And at the end of the night, the Americans taught everyone sloach (songs, the same ones I cherished from my days in USY).
Jerusalem was a home to each of us, even though we came from all over the world.
Living there gave us opportunities to explore our religion firsthand, from doing Havdallah at the protest at the Prime Minister's house to listening to an Eicha reading on Tisha B'Av at the egalitarian Kotel to learning together at the Conservative Yeshiva.
Perhaps the best part of the summer was traveling the country together, a tiny strip of land in the Middle East that we all loved even before stepping foot on its soil for the first time.
Whether we watched the sunrise over the machtesh, the great crater in the southern town of Mitzpe Ramon, swam on the beach in Tel Aviv, or visited the Kotel, we all felt a connection to the land of Israel.
How insanely lucky are we to call the same place home, despite growing up in completely different environments?
Three months ago, I left that apartment in Jerusalem for the last time, but I know that the lessons I gained there will always stay with me.
If you're interested in learning more, please feel free to message me on Facebook!
Jasmine is current a USY chapter advisor at Congregation Beth Am in Longwood, FL.