National Volunteer Month Spotlight: Livia Sauvage
April is National Volunteer Month, and in honor of the occasion we a spotlighting USYers who make an impact on their world, like Seaboard USY's Livia Sauvage, 16, of Congregation Beth Emeth.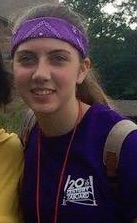 Since the 7th grade she has been actively involved with Best Buddies, an organization that builds friendships and creates leadership opportunities for people living with intellectual and developmental disabilities (IDD).
After being introduced to Reagan, Livia became interested in helping kids with disabilities feel more comfortable in the world. Today she is a Best Buddies officer in her high school's chapter and has attended the Best Buddies International Leadership Conference.
Through her work, Livia helps bring to light one of the most controversial concepts dividing society today; being different. "It doesn't matter how [these kids] are different, whether on the inside or the outside, but everybody is different in some way or another.  And that's not only okay, that's great," she said.
Kol HaKavod on the inspirational work Livia!