Meet Your New Achshav Editors!
USY – who is ready for Achshav content to come back?! Before we dive back into new articles, we wanted to make sure you had the chance to properly get to know your new Achshav Editors – the USYers who will be curating content on the blog through December. If you're interested in writing for Achshav, be sure to reach out to either of them!
---
Amelia Tehrani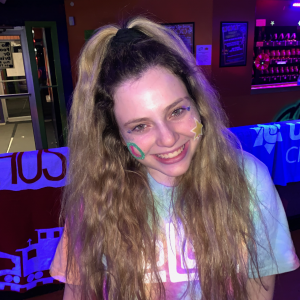 Hello USY! My name is Amelia Tehrani. I'm a junior from BJUSY in the amazing CHUSY region, and I am more than excited to work with THE Sam Zuckerman this year!! Outside of USY, some of my favorite activities include hanging out with my friends, making Tik Toks, playing with my dog, participating in clubs at my school, and playing softball!! Now that you know a little bit more about me, let's start talking about the blog!! My main vision for the blog this year is encourage USYers to share about their communities. Whether they have a leadership position or not, we want to encourage all USYers to step out of their comfort zones and contribute about their communities through Achshav. The blog has so much potential to impact a USYer's life, and we want to help  those USYers to take that leap of faith. Some more of my personal goals for the blog this upcoming year is to make a blog promo video to help promote our vision for Achshav, and to get personal accounts from many USYers on what inspired them to write an article. I want to help make personal connections with USYers who might not be as involved as others. And lastly, I want to find ways to make the blog more interactive, while still keeping Achshav the way it is. Last year, I wrote an article for the blog and it was such a cool experience to have my ideas and story shared throughout USY, and I want to help USYers who feel inspired to write about their tips and experiences. Thank you for reading our opening article! We are so excited to hear your thoughts and stories this year for Achshav!! And finally, thank you so much Jacob and Reena for all the support so far!! If you have any article ideas, don't hesitate to email me [email protected].
Sam Zuckerman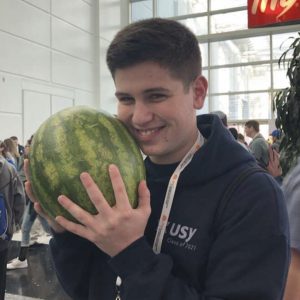 Name: Samuel Adam Zuckerman (You can call me Sam though)
Grade: I am a Junior
Region: The light of USY, HaNer
Chapter: Best Chapter in the country (and Canada), Westport USY!!
Activities I do other than USY: Outside of USY (and besides going to the inferno that is Staples High School), I work for the Track and Field/XC coach at Staples, Laddie Lawrence. I work as pretty much his secretary, and run around for him to make sure that meets and practices can all run smoothly. I get a lot of return out of this as I enjoy it A LOT, and I wouldn't want to be doing anything else besides it. As well, I am working for the school "TV" station (sadly only for this semester). That's also a ton of fun and I really get to learn a lot about the insides of a TV set, so that's pretty cool I guess.
My Vision for the Blog this year: Besides making it the best it can be, my vision for the blog this year is to make it open to everyone. I want to be able to pull writers from all parts of USY life, whether it is someone who is only active within their chapter, to the big cheese himself, Austin Kaufman. I want the blog to be everyone's blog, not just a few people's.
When it comes to content, my main goal is my "הקהילה שלי: My Community" series. The goal of this series is to highlight the moments when USY finally became the writers community, and why this makes USY special to them, and as an organization as a whole. In Short, USYers are writing about their USY moment. IF YOU WOULD LIKE TO WRITE ONE OF THESE STORIES (which, I mean why wouldn't you?) PLEASE CONTACT ME AT [email protected]. Or contact my lovely co Amelia!