Meaningful Moments from #myUSYsummer
When talking about USY Summer Experiences, we almost always hear about the incredible sites you get to see, the friends you meet that become family, and the opportunity to learn more about the world around you. What we don't as often discuss are the meaningful moments that make up a summer with USY. From life-changing prayer experiences to moving volunteer experiences, check out what these USY Summer Experience alumni had to say about a meaningful moment from Summer 2019!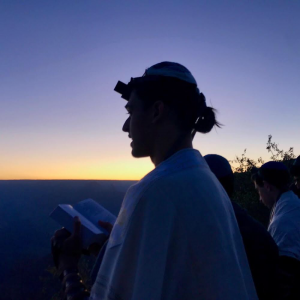 "Hi, I'm Brad Greissman and this year I went on USY Wheels Classic: Bus B! On July 10, 2019, I had the honor of leading the Shacharit service for the first time, and it was especially meaningful doing it during sunrise at the Grand Canyon. I signed up for USY on Wheels to learn more about my Judaism, explore the real America, connect to nature, and to deepen my relationship with G-d. For about a week, I worked with a staff member to prepare for this special moment. While I was leading, I felt very connected to G-d and the beautiful natural forces around me. As we concluded the service by chanting Adon Olam to the tune of This Land is Your Land, I realized that this was a life changing moment that I will never forget."
– Brad Greissman, USY on Wheels Bus B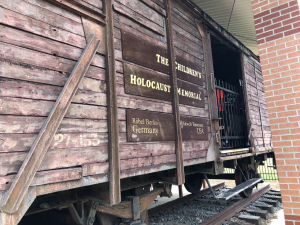 "For me, one of the most meaningful Jewish experiences that I had on my USY Summer Experience took place at the Children's Holocaust Memorial in Whitwell, Tennessee. The memorial honors the 11 million souls and stories that perished in the Holocaust with paper clips stored in a Holocaust train car, collected by middle schoolers in a rural town in Tennessee. As I walked into the middle school, the stained glass and judaica reminded me of a shul, and to add the cherry on top, I noticed a butterfly flying right by the memorial honoring the 1.5 million Jewish children who died during the Holocaust, which made me actualize and materialize their spirit and the spirit of the Jewish people. The experience gave me hope, especially since that part of the country is unfortunately commonly stereotyped with intolerance, a stereotype I learned to be farther from the truth through the experience I had in Whitwell."
– Matt Eisner, USY on Wheels Bus C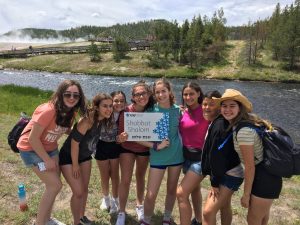 "A meaningful moment that allowed me to strengthen my Judaism were all of the sichot (learning discussions) that we have done throughout the summer. From learning about how theatre and sports connect to Judaism, to finding out the meaning behind Jewish songs, I was able to connect with my Jewish roots in various ways. I will take away the many valuable lessons that I learned from the sichot and apply them to my life at home. I am so thankful that I was given the opportunity to connect with my Judaism and learn other people's views on certain topics through the sichot this summer."
– Danielle London, USY on Wheels Bus C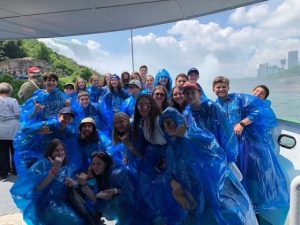 "My name is Noah Lantor and I went on USY on Wheels East this summer. My Meaningful Moment of the summer was praying at Niagara Falls. When our bus arrived at Niagara Falls, we brought our tallit and tefillin off the bus and over to the Falls. We were given some minutes to daven on our own – we could choose to say the Amidah, other prayers, or really anything we wanted to think about. This was meaningful to me because it shows that USY cares about personal choice in even things we do routinely."
– Noah Lantor, USY on Wheels East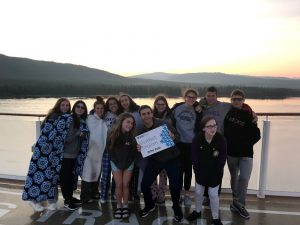 "This summer I went on USY on Wheels PNW and had an amazing time! A tefillah moment that stood out to me on the trip was when we were on the cruise ship and woke up at 3 AM to watch the sun rise on the dock. It was a really meaningful moment during which we sang slowach (slow ruach) and said brachot about the beautiful things we saw. We stayed on the dock for an hour and saw the sun completely rise over the icebergs. After we saw the beautiful scenery, we went back to bed, amazed at what we had just witnessed. I felt so close to all of the people on my trip during this moment – and it is a moment that I will never forget!"
– Gabi Wurgaft, USY on Wheels, Pacific Northwest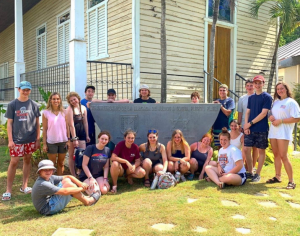 "Hi!! My name is Amelia Tehrani, I'm in 11th grade and I'm from CHUSY region. This summer I went on DREAM USY!!! I connected to my Judaism on DREAM through visiting the Holocaust museum in Sosúa and learning about the Jewish history from the origin since the 1940's. I really connected because our guide spoke to our group about her own family history, and we were able to learn the story of how her family came to the Dominican Republic to escape Europe."
– Amelia Tehrani, DREAM USY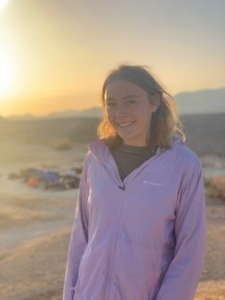 "Hey, I'm Hannah Chubin, I'm in the 12th grade, and I'm from Far West! One Jewish moment on Pilgrimage that was meaningful for me was reuniting with friends from my region who were going on Seminar, followed by going to a nearby overlook of the old city to daven Kabbalat Shabbat. It amazed me how my whole life I've done Jewish things with these friends in America, and now we were able to do those things -the prayers, services, community bonding- in Israel. I was actually in the Holy Land! I was davening outside without any anxieties. And I felt so connected to my Jewish community praying in the heart of Jerusalem. Where my people have been persecuted for their religion, we are still there to keep the religion alive and well."
– Hannah Chubin, Eastern Europe/Israel Pilgrimage 1st Departure – Group 4 2019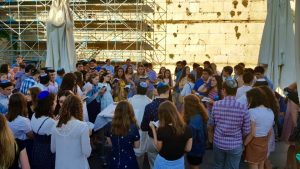 "Hey! I'm Reena Bromberg Gaber, a Mizrach senior, and I had the most incredible, amazing summer on Eastern Europe/Israel Pilgrimage (hi G5!!!!). Our trip spent about a week and a half in the Czech Republic and Poland, learning about European Jews from the 1800s through the Holocaust. We then flew to Israel and experienced incredibly ancient (3,000 years old) Jewish history and the Judaism of today. I spent my entire summer having meaningful moments that each have their own story and are helping to shape my Jewish identity in their own way. But a moment that sticks out among the most meaningful is our last Friday night. Both times we left the Kotel, what is supposed to be the most spiritual place for all Jews, I found myself frustrated for many different reasons; the biggest one is that I have trouble connecting with it and as a very proud tfillin and tallis-wearing girl, I can't practice Judaism there the way that I want to. However, for our last Kabbalat Shabbat the three groups of Pilgrimage that were still in Israel (LTO had already gone home) went to the Kotel. It's not the Kotel that you're thinking of; we went to Robinson's Arch, also known as Azarat Yisrael or "The Egalitarian Kotel". It is another section of the Western supporting wall of the Temple that is less built-up, looks more like ruins, and is egalitarian. When I went to Israel in Eighth Grade I had the opportunity to wrap my Tfillin there and read Torah there, and had even gotten the chance to wrap my Tfillin there a few weeks earlier before I went into the Kotel Plaza. The feeling there on that Friday night was unlike anything else. As it was our last Shabbat together, people were using all of their ruach, singing as loudly as possible, clapping, dancing, and celebrating Shabbat, each other, and the incredible summers we all had. The best part was that as the sun was setting, it was shining on the wall, and in that moment I could truly understand "Jerusalem of Gold". After Kabbalat Shabbat, we had a somewhat long walk back to Agron (the hostel USY stays at in Jerusalem–Agron is home!!). But it was super fun; the sun was setting and the sunset was incredible, and we passed so many different types of Jews who were all on their way to the Kotel, to synagogue, or to Shabbat dinner. I have never experienced something like that in the United States and it is what I love most about Israel. Jews exist in every possible way and can all come together in some way or another, all united by their religion and the ability to say Shabbat Shalom as they pass a fellow Jewish person on a Friday night."
– Reena Bromberg Gaber, Eastern Europe/Israel Pilgrimage 2nd Departure – Group 5 2019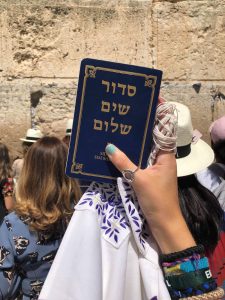 "Hi my name is Allison Lupatkin, I'm a senior from the mighty METNY region and this summer I went on Poland/Israel pilgrimage (G3 2019!!!). This past summer allowed me to connect to my Judaism in so many ways, and one of the most impactful and meaningful moments for me was at the Kotel.
Before visiting this holy site, I was faced with the decision of whether or not to wear my Tallis and kippa at the Women's section of the wall. I knew that if I wore them, there was a chance I would be given ugly looks or asked to remove them but on the other hand, I wear these garments to pray. I ended up choosing to wear my Tallit and kippah into the women's section. Praying at the wall, I felt a stronger connection with my Tallis than I ever had before, and I didn't receive any negative reactions from those praying around me.
In that moment, I felt so proud of and connected to my Judaism, as well as a deeper connection to the Kotel and Israel."
– Allison Lupatkin, USY Israel Pilgrimage/Poland Seminar – Group 3 2019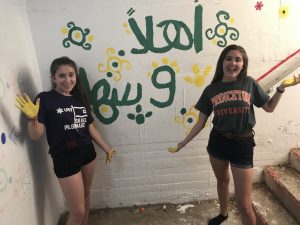 "Hi, I'm Nava Wolfish from the great region of ECRUSY and this summer I went on L'Takayn Olam, the Social Action-based USY Israel Pilgrimage trip. The most meaningful part of my experience was being able to volunteer in the Israeli community. For example, I volunteered at a school for kids with cerebral palsy for a week, and seeing the kids smile when we walked in would always make my day. By volunteering as I did, I was able to feel a stronger connection to the land of Israel and, by extension, to Judaism. Since tikkun olam is such an important aspect of Judaism, being able to give back brought me much closer to my faith and to those around me. I was able to connect to Judaism through practice of a mitzvah instead of through prayer, and it was a much more personal way of finding my own Jewish identity."
– Nava Wolfish – L'Takayn Olam, Group 2 2019
Have you heard? Registration for USY Summer 2020 is now open! Register by 10/31 to take advantage of Early Bird discounts – $150 off for first-timers and $250 off for returning summer participants (excluding Eastern Europe/Israel Pilgrimage and DREAM USY)! Questions? E-mail [email protected]. Ready to register? Sign up today!