Meaningful Moments – Encampments, Fall Conventions, LTIs, oh my!
Hey USY! Rel/Ed IGB is super excited to be presenting to you the meaningful moments your Regional Communications VP had at your last event. I hope you have so much fun reading and looking at the pictures. 
SOOOO MUCH LOVE,
Rel/Ed IGB and Shoshana (all the way from Israel)
---
Emtza – Emi Steifel Alperin – LTI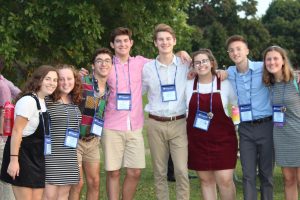 Recently, my region along with CHUSY and CRUSY had an LTI! I connected to my Judaism that weekend by learning and teaching new things with all the USYers. I delivered a D'var Torah on the balance between the traditional side of Judaism and the ethical side of Judaism. I also learned why we do slichot, and we participated in an activity where we wrote things we wanted to leave behind from the previous year on dissolvable paper, which we then put in water. This all was meaningful because I got to spend time with Jewish teens just like me, and really feel connected to them and these programs.
Far West – Raquel Kelley – LTI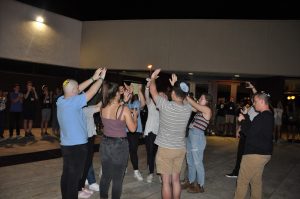 Far West recently had its annual LTI (my favorite event). I connected to my Judaism during our Havdallah service. This was meaningful to me because when I was with all of the people I love so dearly and cannot wait to embark on another journey with, I felt a connection. Just a few days before, the camp counselor of some of my friends passed away, and they spoke of how much they loved him; within that circle, we radiated immense amounts of love. I felt the presence of Hashem looking over us and listening to our prayers and our words. LTI was a difficult weekend for a big portion of Far West, but the community and the love we shared was incredible. Being a community was such an important meaningful Judaic moment.
CHUSY – Celia Giles – LTI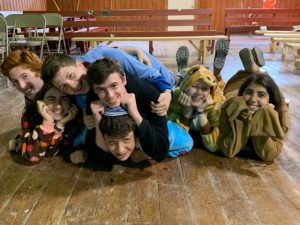 Our first ever Branch LTI was so much fun. It was so interesting to see how each region did Shabbat differently. With CRUSY's constant ruach and Emtza's great services, the three regions together had such a meaningful experience. We were also able to watch the sunset during Kabbalat Shabbat services because we were outside – this was super powerful. It was meaningful to come together as a community. We got to learn how other regions are so different yet so similar to each other in connecting to Judaism.
Seaboard – Madelyn Pollack – Encampment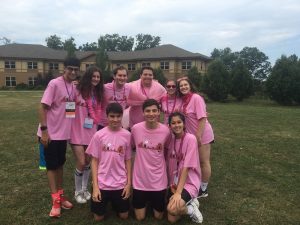 We had our Super Mario Encampment a few months ago, and it was amazing and full of Seaboard spirit! Havdallah on Saturday night was particularly beautiful to me this year. It's always so filled with ruach and love, and you can't help but succumb to the swaying of the circle and lean into your friends and family.
METNY – Dylan Landman – Encampment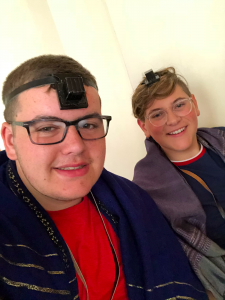 I always connect to creative services in our region. My favorite one has to be Davening in the Dark, where we wear blindfolds and pray without sight. This is so meaningful because it breaks the need to talk to friends and allows me and everyone around me to pray in a quiet space. I am so excited for new creative services this year!
Tzafon – Sophie Scheer – Fall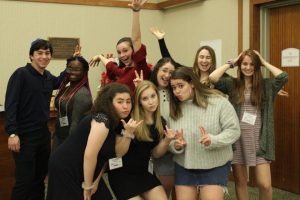 Last month, Tzafon had our annual Fall Kallah. I connected to Judaism during Kabbalat Shabbat. This was special to me because I love the tunes, the dancing and everyone singing together. It shows the community and togetherness of our region whenever we sing the Kab-Shab tunes. I'm so excited for a year of more songs, friends and Shabbatot.
Pinwheel – Robbie Baker – Fall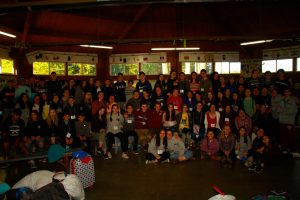 This year, Pinwheel brought together USY and Kadima for Fall Kinnus.  I connected to my Judaism during ruach. This was meaningful to me because there is nothing like a community comprised of youth from grades 6 -12 shouting Jewish songs passionately and proudly, united in one incredibly loud enthusiastic voice! SPIN PINWHEEL SPIN!
HaNegev – Shaina Smith – RGBW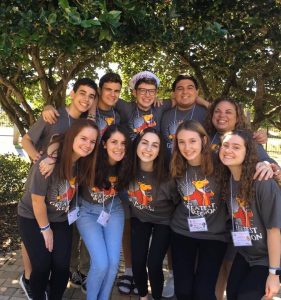 HaNegev recently had our annual Regional General Board Weekend (RGBW) I was connected to my Judaism during Kabbalat Shabbat! This was meaningful because you could feel the energy and excitement in the room!
HaNer – Evan Siegel – Fall Leadership Convention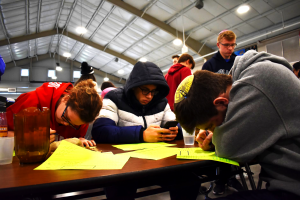 Recently, I celebrated Shabbat at our Fall Leadership Convention. I taught what I learned through my years of USY to other leaders around the New England area. Aside from partaking in traditions like huddling around the candle during Havdallah and shouting during ruach— I loved being able to learn and teach my peers leadership skills. A lot of what I spoke about over the weekend was about the idea of being the type of leader who you wanted to be. With this goal in mind, I hoped that people discovered more about themselves throughout the weekend through my programs. When we talked about different types of leaders, we talked about our values and how we feel it is important to speak highly of modern Judaism in USY while valuing tradition at the same time. 
ECRUSY – Sari Weinroth – Fall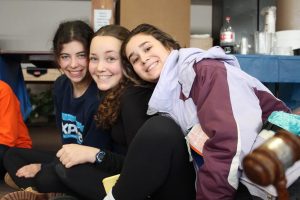 Last month, we had our annual regional Fall Convention in Ottawa. I felt extremely connected to my Judaism during our slow ruach session on Sunday morning. It was really meaningful to me because I was really paying attention to the words I was singing, and I noticed that a lot of the songs were about Israel standing strong and empowering the Jewish people. When I was sitting there with my arms around my friends, I felt extremely connected and proud to be a Jew.