Letter From The Editors
Hey USY! We'd like to begin today by asking y'all a question:
How does the ocean say hello? …it waves!
Now that we've made you sufficiently cringe, we're so excited to welcome you back to Achshav after our summer break. We hope you enjoyed seeing the Summer Experience Sunday Vlogs throughout the summer, shoutout to the Summer Experience Outreach International General Board for creating those! Whether you went on a USY Summer Experience this summer like Reena (shoutout G5!), went to a summer camp like Jacob, or did something else entirely, we hope you had an incredible summer!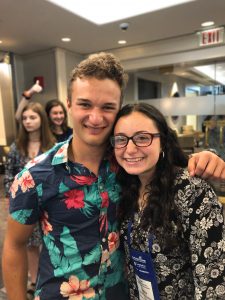 The summer programming season has come and gone, with many regions coming together for their encampments! Then, over Labor Day weekend, the regional and international leaders of USY congregated in Newark, New Jersey for a weekend of leadership training, board bonding, and general shenanigans. All of your elected and appointed leaders are super excited to bring their newfound knowledge back to their regions over the course of the next few months!
The month of September is an important one in the USY year. On both the chapter and regional levels, there is a lot going on. Many regions have leadership training in the next month or two, and the new chapter boards across the continent are whipping up new programming all the time while getting comfortable in their new positions. Our advice? Take everything in. Everyone around you, regardless of their level of experience, has something they can teach you. Listen to every word they say, and don't be afraid to share your thoughts; you will be a better leader for it. But don't forget to have some fun while you're at it, or your newfound knowledge is worth squat. A little bit of chaos isn't a bad thing. 
As for us here at Achshav HQ, we have lots of new content in store for you this month. We will be continuing with our regional spotlights, which will be alongside articles about leadership, friendship, and some upcoming holidays. As always, if you want to write for the blog, please fill out this form as we are always looking for new writers! We hope that you will continue to read our awesome content from all the different USYers! 
Catch ya on the flippity flop!
Reena Bromberg Gaber and Jacob Ellenbogen
Achshav Editors 2019