IC Daily Update | Day 2
Yesterday teens put one of USY's core principles, tikun olam (repairing the world), into practice with a Day of Service, participating in hands-on volunteer projects at more than 30 organizations around the Chicagoland area.
Helping to spread holiday cheer to others, the teens served and prepared food in soup kitchens, played games and spent time with the elderly in senior centers, handed out and sorted donations at shelters, and more for organizations including The Ark, A Safe Haven Foundation, Lincoln Park Community Shelter, Breakthrough Men's Shelter, Harbor Light/Freedom Center, FCHN Soup Kitchen, Catholic Charities of Chicago, Anixter Center, Tree Hugs, H.O.M.E, Sarah's Circle, Clearbrook, Cradles to Crayons, and Open Books.
Read below for teens' thoughts on their Day of Service:
"Doing social action is important at IC because it really shows who USY is as an organization. We not only come together and celebrate being Jewish but we really amplify what that means when we go into the community and give back…It's been really fun and my highlight of IC so far." – Hannah Eiger, Hagalil
"It's a privilege to be able to come to IC, so while we're here we might at well help people who aren't as fortunate as we are." – Tania Miller, CRUSY
"It's good to be here with all my new friends doing something nice for people. Volunteering with my friends from USY just makes it even more special." – Spencer Sher, CHUSY
"It's a nice feeling to feel like you can put a smile on their face." – Dana Schoenberg, ECRUSY; On volunteering at a senior center
"Volunteering at IC to remind us that Jewish community is more than just praying, it's about helping out the community around you and making a difference in the world." – Jason Sherman, Hagalil
"Social action is a big part of Judaism and USY, so to make sure that we practice those values is really important and an important part of being a USYer." – Noa Marcus, CRUSY
After a meaningful morning, the convention body returned to the hotel to debrief on their community service experiences and hear from inspiring speakers.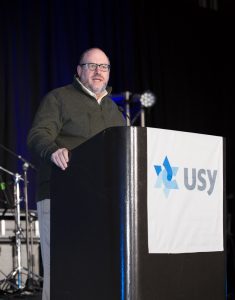 Rabbi Steven Wernick, USCJ CEO, addressed the teens saying, "You're being here is inspiring me to try and be better. You're giving me hope."
"Tikun olam is about repairing the wholeness of human beings," he continued, "What will be your kavanah, intention, to repair the brokenness in the world?"
Teens also heard from HaNegev's Jacob Slavkin as part of USY Talks, a program started at last year's convention in which teens speak about the social action work they're involved in.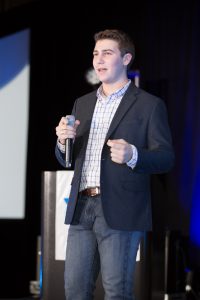 Jacob spoke to the teens about overcoming their fears with gratitude,confidence, and optimism.
"USY if you have a fear, say it or do it. My dad always says to mom, life is short buy the shoes," he said.
"Don't ever live your life in fear of anything. Embrace your fear, learn from it, love it… Loving every second of your life is how you gain freedom from fear."
Finally the evening ended with a special concert from Grammy-nominated recording artist Matisyahu who put the crowd into a frenzy with hits including "Sunshine," "Jerusalem," and "One Day."
Yesterday was a momentous day in every sense of the word, but perhaps nothing sums it up better than a Matisyahu song.
In "Youth" he sings, "Youth is the engine of the world…/Focus your energy/Into a laser beam/Streaming shattered light/ Unites to pierce between the seams."
Check back for more to come USY International Convention tomorrow!