Jumping Into IC Opening Session
By Ari Kwitkin-Close
Walking in, the ground is shaking. Israeli music that begs to be danced to surrounds you and there are signs all around the room. Reading NERUSY, Tzafon, Hanegev, New Frontier, and more, they represent the many regions and USYers from across North America.
Meanwhile, hundreds of kids run across the enormous room to reunite with old friends and others just dance in the crowd making new friends.
To say I was overwhelmed walking into the room at my first International Convention last year would be an understatement. I knew a few people from my home region of New England but that was it.
Instead of letting the enormity of everything paralyze me, I decided to completely embrace the surroundings of my situation—and it was the best decision I have ever made.
I jumped into that opening session head first with my friend Ben. We went to every single region, had a small dance party with them to songs like Kvish Hachof and Mahapecha, and instantly made dozens of new friends in about twenty minutes.
So this year, in the beautiful city of Chicago, opening session did not disappoint. Now, I was one of those kids that knew a lot people from other regions.
I was the kid running across the room to see my friend who lived on the other side of the country. With Mahapecha being pumped through the speakers, I stopped, looked around the room, and in the immense craziness that surrounded me, and smiled.
I watched a few kids from my region going up to others and introducing themselves just like I had done exactly one year ago.
In all honesty, I do not think there is any other atmosphere in which you can give someone a hug, consider them one of your best friends, and then, finally, ask for their name.
Somehow, the individuality of USY does not stop there. Every region has their own identity. HaNegev always seems to have immense ruach (spirit), Hanefesh is small but proud, and METNY churns out international leaders faster than a weeknight ma'ariv.
The beautiful thing about opening session is that while these regional identities are on display with branded shirts and other party accessories, everyone is there for the exact same reason, to celebrate our Jewish identities while learning from one another.
If someone were to ask me what the most impactful moment of my time in USY has been, I would not pause before saying opening session of any International Convention.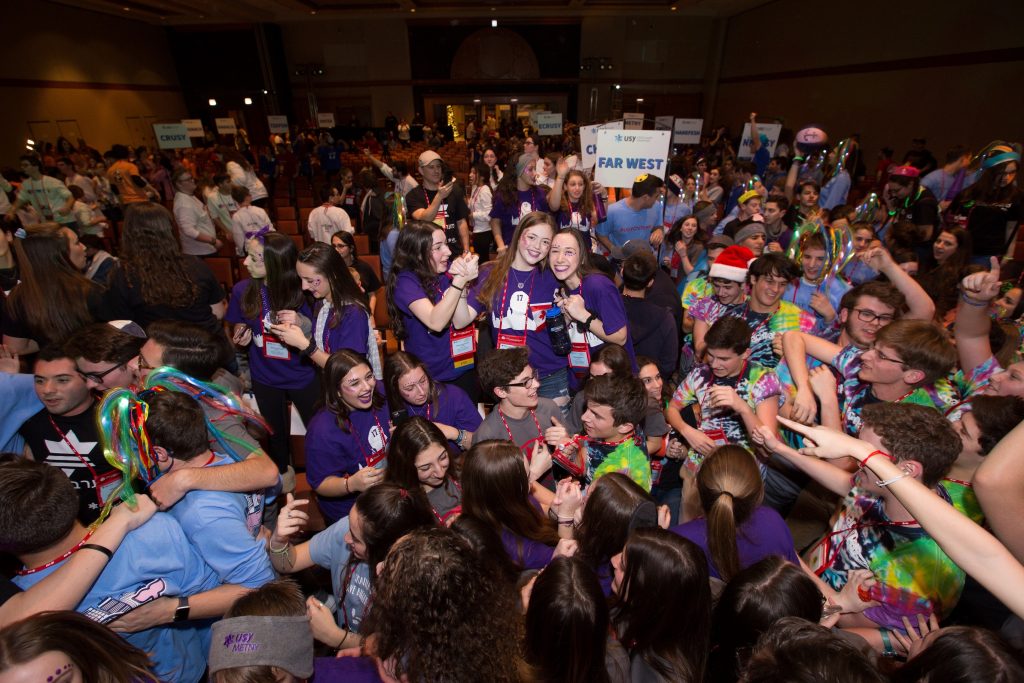 Sure, every region distinguishes themselves through a shirt but when it all comes down to it, the room becomes a sea of color and Jewish teenagers from all around North America come together because of an organization we all love.
Nobody cares about where you are from. Nobody cares about your background or what you do in your free time. All people need to know is that you also came to spend a week making memories with friends who will last a lifetime.
Ari is a senior in USY's New England region (NERUSY).