A Q&A With The 2018-2019 International Chapter of the Year
Editors' Note: Orangetown Jewish Center USY, from METNY, was awarded the prestigious title of USY's 2019 International Chapter of the Year. Achshav wanted to give you, our loyal readers, the opportunity to learn more about OJC, all the awesome things that they are doing, and what makes them unique.
---
What and where is your chapter?
Our chapter is Orangetown Jewish Center USY, or OJC USY for short! It is located in Orangeburg, New York, which falls in the Emek Division of METNY Region USY!!!
Tell us a little bit about your chapter.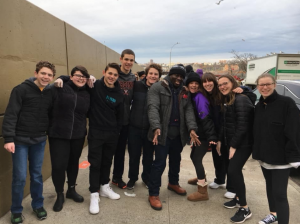 OJC USY has always been a mighty chapter! For years we would hold USY programming called Na'aseh — meaning "Just Do It" — three Tuesdays per month, but this year we shook things up a bit. Now, Na'aseh takes place on one Tuesday a month, while other weeks we will have a Teen Leadership Council meeting on Thursday or Social Action Sunday. A few years ago, we began hosting a wildly popular shul-in open to anyone in our division! We often get together with our fellow Rockland chapters – Montebello Jewish Center, Nanuet Hebrew Center, and New City Jewish Center – to have fun weekend events like a Fall kickoff event, Laser Tag, or a Broadway show! We're really big on making our presence known in the greater synagogue community, helping to run youth services a couple of times a year and chairing Mitzvah Day activities every November!
What was your favorite chapter event this year?
Our favorite chapter event this year was our Pride Shabbat back in April. Coinciding with the Day of Silence, we officially kicked-off the Orangetown Jewish Center's ongoing pride campaign. Dozens of youth of varying ages participated in services, whether that meant they recited an English reading, helped to lead davening, or acted in our parsha play. Afterward, we hung out – with snacks, of course – and played games before saying good night. It was a wonderful evening with OJC USY and the OJC community!
What is your favorite memory of your chapter?
"I have been a member of OJC USY for a few years, and now I'm pretty outgoing as far as welcoming new and younger members, but I haven't always been that way. When I was ending my freshman year, I was terrified to join USY. I thought there was no way that I would ever fit in, but that changed at our chapter's senior sendoff that year. I hadn't been to many chapter events, and so I expected no one to know who I was. But what I didn't expect was that everyone, even the outgoing seniors, would be so welcoming and encouraging. They made sure that the home they were leaving would be my home for the next three years, and I will never forget that night because I became a part of something greater than I could have ever imagined, and my love for OJC will only continue to grow."
-Alexis Shapiro, Senior
2019-2020 Chapter Co-President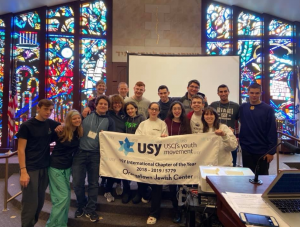 "I really loved getting donations for the Purim Carnival with Louie, our Chapter President, when I was in 9th grade. It was one of the first things I did on board, and it showed me how much of an impact we can have together. That day lead me to run for SA/TO Vice President, and eventually President!"
-Jake Kayden, Senior
2019-2020 Chapter Co-President
"My favorite chapter memory is the first event I went to, which was when we had a graffiti expert teach us about how graffiti can be tied to Judaism. It was great to meet new people, and a fun intro to USY. We then went outside and spray-painted on a sheet that we all worked on together."
-Ethan Beer, Sophomore
2019-2020 Chapter Communications VP
"I've been attending OJC USY events since my days in Ruach, which begins in third grade. It is incredibly hard to pick just one good memory! An all-time favorite must be our first chapter shul-in of recent times. It was my freshman year and my first year serving on chapter board, so it was a great new experience in multiple ways along my USY journey. I learned so much from the organizational side, but I also had such a blast that weekend!!"
-Miranda Price, Senior
2018-2019 Chapter President
What makes your chapter unique?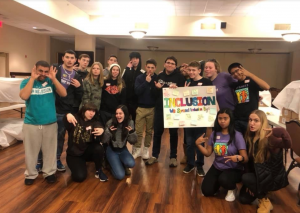 Our chapter is unique in several ways. First, we sustain a chapter general board and our meetings are open to anyone that is interested in attending. We are constantly looking to develop new leaders and expose youth in our community to any opportunity in USY we can give them. Our synagogue's annual Purim Carnival, for example, is co-chaired by the youth, and we delegate this position to our chapter's freshman class. It is a really fun experience for all who participate! Second, we are always innovating, determining how we can change up our typical ways of doing things to adjust to a dynamic USY. Every year we look to introduce at least one or two new events to help engage new members in our chapter. For example, our 2018-2019 chapter SA/TO VP, Harrison Gerson, partnered our chapter with the local Best Buddies program at his school, and we had two events with them throughout the year. Both events drew great attendance and helped to bring in more people to become involved in our community.