#IAmUSY Giving Tuesday Recap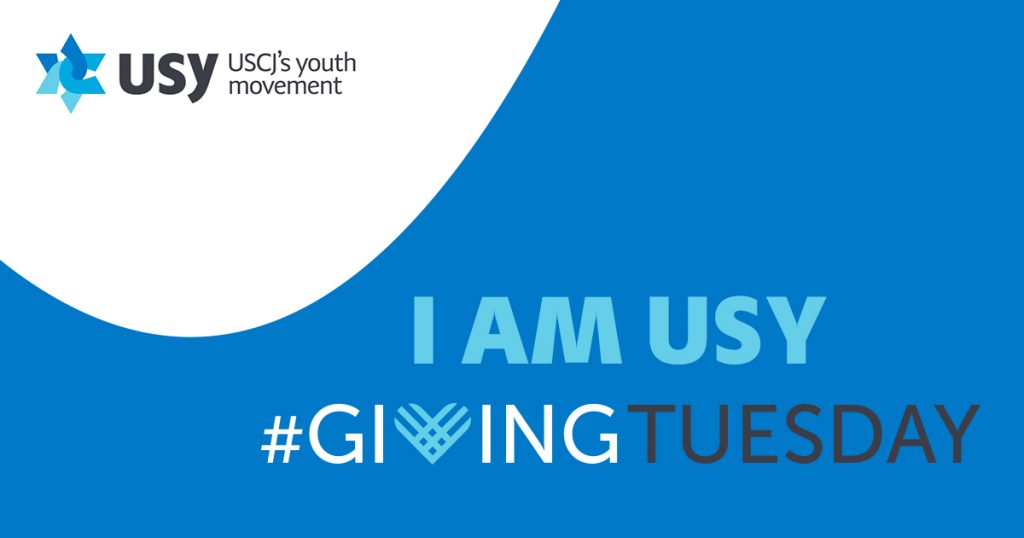 Past and present USY participants mobilized and joined forces to help raise over $5,867 for the USY Annual Fund this past Giving Tuesday. Armed with the hashtag, #IAMUSY, past and current USY participants shared their stories and tributes to USY and their involvement in USY changed their lives for the better. Here is a snapshot of how past and present USY participants embody #IAMUSY and how USY changed the lives of so many, and impacted many to be involved in their larger Jewish communities:
Abby Kerbel, USY's Educational Outreach Manager and Seaboard USY alumna: 
#IAmUSY. I grew up in USY , found my voice in USY, made life-long friends in USY, and developed as a Jewish Educator and professional in USY.

USY provides a safe place for Jewish teens to become who they are and who they want to be. Consider donating this #GivingTuesday to help the present and future of Conservative Judaism.
Samantha Brody, CHUSY USYer:
USY has given me the power to be myself, to discover what I am passionate about, and to become a leader in ways I never could have imagined before. USY has helped me create meaningful connections with teens across the country, and I know that these friendships will continue to blossom beyond my USY years. USY is a place where I can take pictures with complete strangers before Kabbalat Shabbat, only to become best friends months later. USY is where I can sing at the top of my lungs, even though I lost my voice hours before. USY is where I can cry at the end of International Convention because my friends and I live in different time zones, and I can cry after regional conventions even though my friends live ten minutes away. USY is where I can dance to Israeli music and know that my peers have heard the songs. I am passionate, I am Israel-loving, I am friendship-building, and #IAmUSY.
Matthew Jadd, Seaboard Chapter Youth Director:
#IAMUSY because they took this Canadian in and made me feel at home within seconds of starting to work there. All of the staff, friends, participants, from Kadima to USY, from my Har Shalom USY Board to other chapters in Seaboard Usy, I am thankful that I got to meet, interact with as many people as possible last year, and hopefully be able to reunite in the near future!

I am so thankful for USY for everything they do for me and for the Jewish community all across the US and Canada so on this #GivingTuesday, we are asking that those who can, consider giving to support USY and all the amazing work they do every day.
Aliza Silverman, Hagalil alumna: 
#IAmUSY because USY is the reason why I want to be a Jewish educator today. Ever since my first convention, freshman year Spring Convention, I was hooked. I made amazing friendships, explored my Jewish identity, and grew as a leader. Through three IC's (as a USYer—plus one as staff!) I got to meet Jewish teens from all over North America, helping me realize that the Jewish community is bigger than myself and my kehilla in North Jersey. I got to go to the Israel for the first time, seeing and learning about the country first-hand with a spectacular group of people, which lead me to eventually study abroad in the country last semester. I am also fortunate enough to not have only been a USYer in Hagalil USY, but to still be involved today. I have been able to give back as staff in my home region, as well as staff USY and Kadima in Seaboard Usy, giving me the opportunity to meet other amazing, passionate Jewish educators and work with really great kids. It's also lead me to be a youth group adviser at a Conservative Synagogue. These experiences have all shaped me into who I am today, and everyone should be able to have these experiences. That is why I am supporting USY on #givingtuesday. #AlwaysHagalil