How To Keep In Touch With Your International USY Friends
Editors' Note: Think December is too long to wait to see your friends from across International USY? Don't think you'll ever make it? Don't worry! We've got you covered: CHUSY's Amelia Tehrani has tips for how she stays in-touch with her friends who live near and far.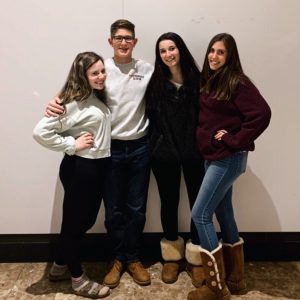 Hello USY! My name is Amelia Tehrani and I'm a junior from the amazing CHUSY Region! For today's blog post, I'm going to be giving you tips about how to stay connected with your international USY friends in between summer trips and IC!
First, let me share my International USY experiences. I have been lucky enough to attend IC during my both my Freshman and Sophomore year, and I will be attending my Junior year International Convention this December (learn more about #ICSoCal at usy.org/ic)! IC made me realize how much USY means to me – it was truly a life-changing event. At both of the ICs I have attended, I have formed some of the greatest friendships of my life!
Since IC is only once a year, it can be really hard to stay in touch with all the amazing friends you made at convention. And it is especially hard when you all live in different states. But something I do to keep our bonds close is text my USY friends almost every day asking about their days. Another thing I do is FaceTime a different friend almost every night so we can catch up on what's going on in our lives.
Now, I want to talk about USY Summer Experiences. This past summer, I went on DREAM USY, which I highly recommend you go on! Prior to the summer, I only knew one person going into my trip, but I ended up forming some really incredible friendships! Since the majority of  the USYers from DREAM live in different states, one way we all keep in touch is by continuing to use our DREAM group-chat to keep all our friends updated on our lives. Also, some of my DREAM friends will be attending IC, which is an amazing opportunity to see everyone again from a summer program, especially since it serves as our official reunion space (with a special late-night for just Summer Experience participants)!
I am so excited to be in Southern California in less than 100 days for International Convention 2019! I cannot wait to be reunited with all my amazing friends from International USY – whether they are from past ICs or Summer Experiences. Oh yeah, and to have the best time ever! For this upcoming IC, my biggest tip is to step outside your comfort zone and meet new people and make new connections with USYers all over North America! You never know, you could end up meeting someone who will become your new best friend!
Amelia Tehrani is a junior from CHUSY (Chicago Region USY). She is a proud member of Beth Judea USY (BJUSY) in Buffalo Grove, Illinois. She is currently serving as chapter president.