How IC Changed My Life
Editor's Note: It is now September, which means that summer is over and school is back in session 🙁 But, with the new programming year upon us, we now have less than 4 months until #ICSoCal!!! Early bird registration has been EXTENDED to October 4th, so there is no better time to sign up than right now! Not sure yet if you want to go? Well, HaNegev's Annie Rojzman has attended the last THREE ICs, so she knows a thing or two about the convention. She tells us today why you should NEVER miss a chance to attend IC.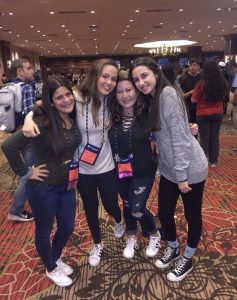 I'm not sure what it was. Maybe it was the unbelievable ruach, or making new best friends, or the beautiful cities I have explored that have made International Convention such an important experience in my life. From Dallas, to Chicago, to Orlando, IC has given me and so many other teens the opportunity to explore so many incredible places around the country. I am so lucky and grateful that my parents have given me the opportunity to attend IC since my freshman year. IC is the perfect way to spend your Winter Break. What could be better than spending time with friends from your region, while making new friends across other regions!? Whether it be during services, programs, or mixers, the feeling of being surrounded by hundreds of Jewish teenagers is – to simply put it – powerful.
The summer before 10th grade, I went on a USY Summer Experience called DREAM USY. I met so many new people, and after two powerful weeks abroad, leaving my new friends was so hard, though it was easier knowing I had a reunion to look forward to. After five months of being apart, my group was able to reunite at IC Chicago, and it was such a special feeling. Being able to travel so far from home – whether that's to the Dominican Republic, or to an IC host city- at a young age is such a unique opportunity that I would probably not have if it were not for USY.
My three experiences at IC have always provided a home-away-from-home feeling. The excitement and joy I have received from reuniting with my best friends that live in the other part of the country is surreal… I can't even begin to explain how hard the goodbyes are. It was amazing meeting people that not only had the same passion for Judaism, but people that were interested in helping the greater community. IC can act as a networking hub for USYers – it was fun to share programs with USYers who held the same leadership position as me in their respective regions. Sharing tips and advice for running your chapter can be very useful, as it can help strengthen chapters all around the country! From the local level to the international level – International Convention is all about leadership. During the week, we have the opportunity to elect USY's next International Executive Board, comprised of leaders who will lead our organization during the upcoming year. One year, I even had the chance to nominate a friend for the position of Israel Affairs Vice President – that was one of my favorite moments from IC!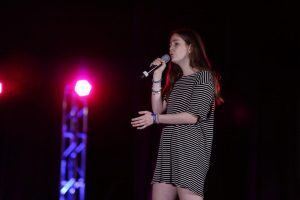 One of my favorite parts, if not my favorite part of IC, has always been giving back to the community. We were left with the mindset that there is always a place to help, and to do mitzvot. During each IC, there have been several SA/TO (Social Action/Tikkun Olam) projects to help throughout the cities. Activities and programs differed between each grade. Each time I attended IC, I left with a different perspective on life. The motivational and inspirational speakers that come are incredible, and I am truly thankful for the lessons I have learned from them. Another incredible part of my first IC in ninth grade, IC Dallas, was participating in the talent show. I was SO happy that I got to share my passion for music with the whole convention, and it was an unforgettable experience. I received so much love from new and old friends which made me feel so loved and welcomed!
Okay, now let's be real. IC has always taken place in incredible places! But, California? It CANNOT get better than that. The weather and attractions are highlights that are sure to be unbelievable experiences! Whether you have or have not been to California before, this is the perfect opportunity to go, or go again! I guarantee that these five days will be the most amazing five days of your life.
IC has really changed my life. Nothing compares to the lasting memories and friendships that I have made at International Convention. If you have the opportunity to attend IC, please do.
You won't regret it.
Annie Rojzman is a senior from Hanegev USY. She is a proud member and former Chapter President of BTBRC USY in North Miami Beach, Florida.
Want to register for IC? To register or to find more information, visit usy.org/ic! But hurry! Early bird registration ends on October 4th! Don't miss out on the biggest party of the year in SoCal, you'll wanna #SeeYourselfThere!