How IC Changed My Life
Editor's Note: While it may only be June, it is never too early to start thinking about winter. We know, we know, we still need to get through summer first, but to quote Game of Thrones, Winter is Coming. And with winter comes International Convention! Take it from us, International Convention is a life-changing experience. USY alumna and current international staff member Elyssa Ronik tells us the story of her experience with IC, and how it changed her life.
Here's a hot take for you: had I not attended International Convention in 2010, I have no idea what my life would look like right now.
Crazy sentence to start with, right? Let me backtrack.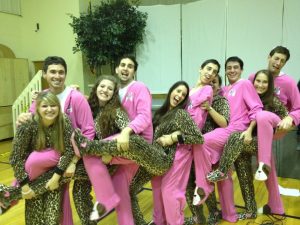 We always talk about the exhilarating feeling you can only get from attending Opening Session at USY's International Convention. There's another moment of the week during which that feeling of excitement is almost matched: the announcement of the location of the next IC. It's especially overwhelming you find out it will be in your home region! I was sad to not attend IC my freshman year (my parents thought it might be too overwhelming for me – a rule that changed for my sister who attended all four of her International Conventions and went on to serve as an IC Co-chair in Chicago) so once I saw on Facebook that the location for my sophomore year was announced – Orlando – I was absolutely elated.
I had been toying with the idea of spending my summer with USY on Wheels, but was honestly a bit nervous. Would it be too much? I had never been away from home for that long – would I get homesick? Would it be easy for me to make new friends? Would I enjoy spending so much of my summer in the setting of a coach bus? IC was that determining factor for me. When I saw regional friends with their Wheels friends, I knew that was something I wanted for myself. To watch the genuine connections that were fostered carry on regardless of what coast people lived on was so special… I would be lying if I said I wasn't jealous of these Summer Programs alumni that seemed to be best friends with everyone. My mom came up to Orlando to serve as a volunteer, and right then and there in the hotel, I told her that USY on Wheels was how I wanted to spend the summer before junior year. I went to the convention office, filled out the initial form and paid my deposit (this era of time can be defined as BRP, or Before Regpacks), and it was officially official – I would be spending Summer 2011 on the road!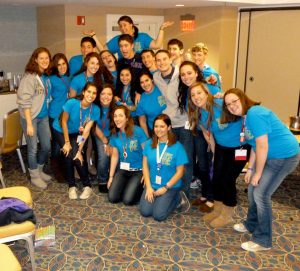 I cannot tell you exactly what I did at every moment during each IC I attended in high school, but I can tell you there were so many special moments that are seared into my mind forever. I remember leading a Facebook-themed minyan with one of my best friends (something that now seems so outdated!) I remember singing with Six13 and competing against all of the regions for our own song written by the acapella group (you can ask any of my friends from USY – we all still remember the song Six13 wrote about HaNegev!) I remember singing my HaEvent song with Group 4 2012 as we came together for the first time since our incredible summer in Poland and Israel – experiencing for myself the friendships I previously dreamed of. I remember only two weeks after the Sandy Hook shooting, raising my voice along with the rest of USY, standing against gun violence – a memory that has stayed with me and shaped the way I carry myself, especially now, as an alumnus of Marjory Stoneman Douglas High School. Each IC has the ability to serve as a life-altering space in so many ways – you just need to be able to, as the tag line for this year's IC says – see yourself (t)here!
Had it not been for my experience at IC, not only would I have not gone on Wheels, not only would I have not gone on Pilgrimage, but both led me to two more International Conventions during my time in high school; and, all of these experiences led me to pursue leadership roles in my chapter and region, to staff USY in college, to develop a stronger sense of self, to dive into Jewish life on campus, and to ultimately work for International USY. IC started the most important domino effect in my life at the current moment, and I could not be more grateful to serve on the team that provides this initial domino to hundreds of teens year in and out.
Elyssa Ronik is USY's Program Coordinator. She is an alumna of HaNegev USY, originally from Temple Beth Torah Sha'aray Tzedek in Tamarac, Florida. She served as HaNegev's Religion/Education Vice President for the 2012-2013 programming year.
Want to see yourself create your own incredible IC experience? Then join all of USY in SoCal December 22-26 for International Convention 2019 – registration is now open, don't miss out on the Early Bird discount!