Get to Know Your IEB: Caleb Posner
A new year means a new International Executive Board (IEB). Meet your 2019 International Membership/Kadima Vice President, Caleb Posner!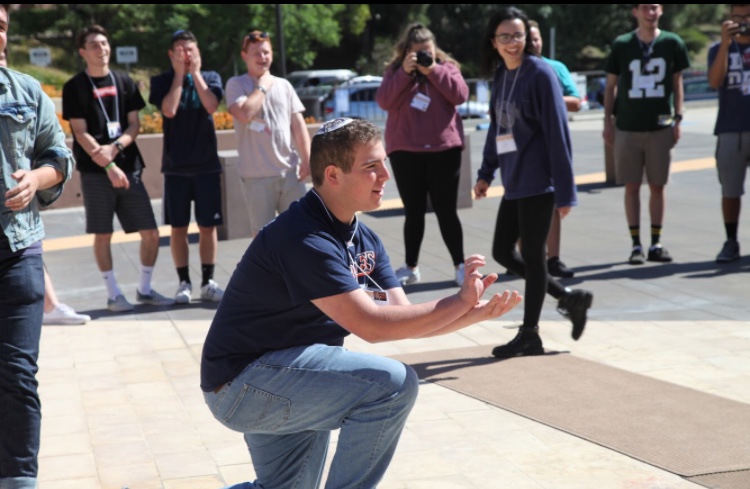 In true USY icebreaker fashion- what's your name, grade, chapter, region, and favorite kitchen utensil?
My name is Caleb Rex Muller Posner.  I am a senior from Congregation Beth El La Jolla USY in the chillest region in all of USY, Far West.  My favorite kitchen utensil is absolutely without a doubt a spork.
What is your favorite moment from your USY experience?
For a kinnus that I co-chaired at my synagogue, my parents amazingly agreed to host 15 boys besides myself because they knew how important it was to me to not leave anyone out.  That whole kinnus, but especially the free time spent at my house, was my favorite USY moment. I was able to just hang out and have fun with my friends the entire weekend. It was incredible to just be in a state of happiness where I was surrounded by my friends, and see the weekend I had planned unfold extremely successfully.
Why did you choose to pursue your position on International Executive Board?
I chose to pursue the position of International Membership/Kadima VP because I truly care about the future of USY and the USYers.  USY has given me lifelong friendships and incredible experiences that have made me who I am. It is extremely important for me that as many Jewish teens as possible get the opportunity to experience USY.  That's why I love being Mem/Kad. I get to work on growing our USY community, and improving the atmosphere for everyone already in it. I really wanted to make sure the USYers are engaged and feel heard.
What do you want to achieve this year as Mem/Kad?
I want to truly make every USYer feel engaged and comfortable, use what USYers want out of their experience to improve USY, support every regional and chapter Mem/Kad, connect USYers at and outside of events, and get to know as many USYers as possible.
The advice you would give to a freshman just starting out in USY is:
Cherish every moment because your USY experience passes by faster than you could imagine.  Have fun, that's the most important thing you can do in USY. Make new friends, because everyone wants to talk to you.  Take advantage of all the opportunities given to you, and just be present. Enjoy these next four years because they'll give you memories and friendships that will last a lifetime.
Tell us your six-word USY memoir:
No sleep, but it's worth it.
If you could have International Convention happen anywhere – where would it be?
In the Far West song there is a line that goes "From Albuquerque to the Waikiki Far West is the region for me," so technically, although Hawaii possesses no active chapters, it is in Far West and would be the perfect place for IC.  It is a beach paradise with a potential for some pretty cool programs and community service. It also might jump start USY in Hawaii which would be amazing. The possibilities for fun at IC Hawaii would be endless which is why Hawaii would be perfect for IC, but Far West has IC SoCal this year anyway which is a pretty close second so get pumped USY!!!
What does USY mean to you?
USY is family, a supportive community, a place where I know I can be myself, extremely fun, where I developed my Jewish identity, where I can confidently be a leader, where I proudly lose my voice during Ruach, where my best friends are, where I know I can always make new friends, where I create connections, where hundreds of Jewish teens mosh to Israeli music to kick off IC, where I anxiously countdown the days until the next regional event, and where I truly feel at home.  USY is all those things and so much more which is what makes it so important to me.