Get To Know Your IEB: Austin and Becca
Editors' Note: To kick off the introduction to the 2020 IEB, we have The Man, The Myth, The legend, The dailydose_comedy himself, hailing from Southern California, THE Austin Kaufman! Get ready to learn some facts about your International President, I heard he's very appealing🍌! *cue laugh track*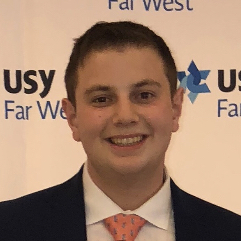 Name: Austin "Danger" Kaufman (My real middle name is David, but a kid can dream)
Region: Far West USY (We never give up we always try. From Albuquerque to the Waikiki, Far West is the region for me!)
Chapter: Congregation B'nai Israel in Tustin (Yes, Tustin and Austin have 5/6 the same letters, but no, we aren't related)
Position: I am currently serving as USY's International President for the 2020 Year
Favorite Food: My favorite food is probably Shakshuka or any Chinese Food. They are both very different from each other but are both very tasty.
Favorite Convention: Ever since my first one in 1983, my favorite convention has to be the Carbohydrate Convention. It is this awesome event where people who love eating carbs (ranging from pasta to potatoes to whole loaves of bread) get together. The keynote speaker is always Alfred Hemingway (the inventor of whole-grain bread – he's a really big deal) and he is riveting every time. Oh – sorry, you mean my favorite USY convention?! That has to be the SA/TO Dance-A-Thon that I went to in 8th grade because that is where I had my USY moment (a spontaneous half an hour-long a capella session with strangers that soon became some of my best friends and mentors) or IC Chicago because that was my first international event, during which I met countless amazing people and lifelong friends (it was a week that has changed my life more than any other).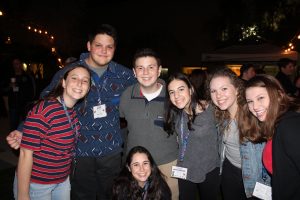 Inspiration: My inspiration is my family and friends. They push me to be the best person I can be and I am at my happiest and most content when I am with them.
Favorite Extracurricular Activity: Besides USY which is easily my favorite, and planning the Carb Convention (Carb-avores where you at!?) which I have already talked about, my favorite extracurricular activity has to be Comedy Sportz. Comedy Sportz is my school's improv team and participating in it and learning to improvise over the last four years has truly been a highlight of my high school experience. This year, I am serving as a Co-Captain and it has been incredible!!
Favorite Song at the Moment: My favorite song at the moment is called "Going Up the Coast" by Clay and Friends. It never fails to put me in a good mood!!
Advice for an Aspiring Leader: Keep meeting people, stay positive, things never go exactly as you plan, everything happens for a reason, and focus on enjoying the journey (not getting to the destination).
---
Editors' Note: Coming to you live all the way from Israel (or New Jersey) is the 2020 Israel Affairs Vice President, Becca Raush!! Want to learn more about Becca? Well, you're in luck! In today's introduction to the IEB, you'll get the opportunity to learn more about our "Israeli great" Israel Affairs Vice President who is "Eilat" of fun!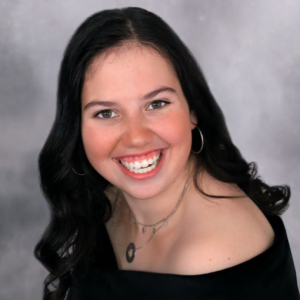 Name: Becca Raush
Chapter: Beth El Voorhees USY
Region: The Mighty Mizrach!
Position: International Israel Affairs Vice President
Favorite Food: Grapes! Okay, I know that might sound weird, but I eat them all the time. I cannot live without them.
Favorite Convention: Spring Convention 2017 – It was my Freshman Spring, and only my third-ever convention. I was still in the mentality that I only did USY to see my camp friends, and because my mom made me. On Sunday morning, I was hanging out with my only friend, Sammy Wiener, and we decided it would be a good idea to tie the sleeves of our sweatshirts together. Next thing I knew a senior boy ran over and tied his sleeve to ours. More and more and more people joined in. People of different ages, whom I did not even know, and I had not spoken to for all of the convention wanted to tie their sleeves to mine and Sammy's. I made so many friends during just this one experience. I remember that all morning I could not stop smiling and laughing. That was the day I realized that USY was a place where I could be entirely myself, and connect to so many people. After that day, well, the rest is history.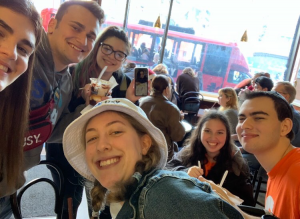 Inspiration(s): Ruth Bader Ginsburg and Samantha Brody.
Favorite out of school activity: Outside of trying to solve the Israeli-Palestinian conflict and USY, my favorite outside-of-school activities are running and reading. In the Fall I ran cross country with my school, and last year I ran my first ever half-marathon which was super fun. My dream is to one day run the Jerusalem Marathon! Reading has always been an outlet for me to unwind at the end of the day, get lost in a character's problems, or learn something new.
Favorite song at the moment: Israel's Eurovision entry: "Feker Libi" by Eden Alene. Eden Alene is the first Ethiopian Israeli to represent Israel in Eurovision and the song itself is in four languages (Amharic, Arabic, English and, Hebrew) which I think is incredible and representative of Israel's diverse population. Another song I've been really enjoying lately is "Only the Young" by Taylor Swift. It came out with her Netflix documentary and places a large emphasis on the importance of youth involvement and the impact that young people can have which I absolutely love.
---
If you ever want to get in touch with Austin or Becca, send them an email! You can reach Austin at [email protected], and Becca at [email protected].