Chag Chanukah Sameach, USY!
Editor's Note: Chag Chanukah Sameach, USY! We hope you're celebrating eight days of joy, family, food, and fun. To spice up your Chanukah, read below as we share with you some intricate Latke & Sufganiyot recipes, a little blurb on the history of Chanukah, and the top songs by the Maccabeats, ranked by our very own USYers!
---
To brush up on your Chanukah history, read a little blurb from Rafi R, Hagalil: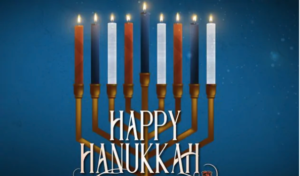 King of Syria, Antiochus III annexed Israel as a part of the Syrian-Greek Empire, and mistreatment of the Jewish people heightened as Antiochus's reign prevailed. During Antiochus's son's reign – Hellenism (the belief of idol-worshipping and the common way of Syrian life) swept the land. Seleucus was killed, crowning his brother Antiochus IV as the king. The new King Antiochus was a tyrant and wanted there to be a common culture and religion over all of the Syrian-Greek Empire, resulting in the oppression of Jews. The old Priest Mattityahu refused to become a part of the Hellenist party and killed a Hellenistic Jew. Mattityahu fled Modim with his friends and sons, who would continue fighting for the Torah after Mattityahu's death – led by Judah the Maccabee. Antiochus sent a 40,000 man army to kill Judah and his followers – "The Maccabees," but the Maccabees won the series of battles. The Jewish Temple was now destroyed and vandalized with idols, the menorah was stolen, and the altar was broken. Judah and the Maccabees built a new altar and made a new menorah. When they went to light the new menorah, they only found enough oil to last one day. By a miracle of God, the oil managed to burn for eight entire days. 
Sufganiyot Recipe, Tamar O – HaNegev
Ingredients:
1 packet dry active yeast (2 ¼ teaspoons)
3 cups all-purpose flour
1 egg
3 tablespoons sugar
1 cup warm water
1 ½ tablespoon oil + more for frying
½ teaspoons salt
2 cups of strawberry jelly
Preparation:
In a gallon-sized plastic bag, add the yeast, warm water, sugar, oil, egg & flour
Zip bag & mix ingredients well
Place bag in a bowl of very warm water for 1 hour
Remove dough from the bag onto a floured surface. The dough should be sticky. Roll out the dough to ½ inch (1 cm) thickness. Make sure both sides of the dough are floured, so it doesn't stick to the surface. With a cookie-cutter/drinking glass, cut 2-inch circles in the dough. When you are left with scraps of dough, roll it out again & cut more circles.
Cover with a towel for 30 minutes. Fill a pan with 2 inches of oil. Heat oil to 350F/175C. Depending on your stove, the correct temperature will be around medium (if you don't have a thermometer). The oil should bubble around the sufganiyot, but not a ton of bubbles. Fry the donuts for about 1 minute on each side.
Remove & place on cooling rack/plate with paper towels.
With a squeeze tube or piping bag, add your favorite jelly or jam to the doughnuts!
Latke Recipe, Martin L – HaNer
Ingredients:
10 medium potatoes
2 medium onions
2 large or 3 medium eggs
¼ cup unbleached all-purpose flour, breadcrumbs, or matzah meal
Salt & white pepper to taste
Vegetable oil
Preparation:
Peel the potatoes if the skin is coarse; otherwise, clean them well. Keep them in cold water until ready to prepare the latkes.
Starting with the onions, alternatively, grate some of the onions on the large holes of the grater & some of the potatoes on the smallest holes. This will keep the mixture from blackening. Press out as much liquid as possible & reserve the starchy sediment at the bottom of the bowl, then return the sediment to the mixture.
Blend the potato mixture with the eggs, flour, salt, & white pepper
Heat 1 inch of oil in a frying pan. Drop about 1 tablespoon of mixture for each latke into the skillet & fry, turning once. When golden & crisp on each side, drain on paper towels. Serve with yogurt, sour cream, sugar, or applesauce!
If you want to freeze your latkes, place them on a cookie sheet, freeze, and remove them to a plastic bag. Once ready to serve, place them in a 450-degree oven for several minutes.
If you haven't listened to The Maccabeats, then you're doing something wrong! We asked USYers to rank their favorite Chanukah songs from The Maccabeats, so if you're ever in need of song recommendations, you can always come back to this list!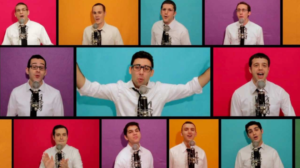 1. & 2 .(a tie!) All About that Neis & Miracle
3. Oh Hanukkah
4. Candlelight
5. Pan Fry
6. A Hamilton Hanukkah
7. Candles on the Sill
8. Burn
9. Shine