Celebrate the Israeli National Holidays with USY!
Check out the ways all 8-12th graders can observe the Israeli National Holidays with USY! These events are FREE for all current 8-12th graders – you do not need to be a #MyUSYfiSpring Passholder to participate.
---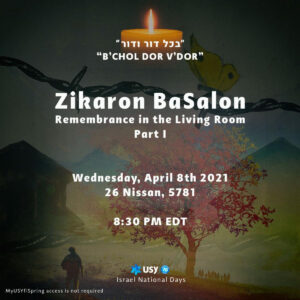 Zikaron BaSalon – Remembrance in the Living Room Part I – Thursday, April 8th – 8:30 PM ET

To begin our observance of Yom HaShoah, join us for a ceremony and interactive program during which we remember the Holocaust while highlighting the past, present, and future.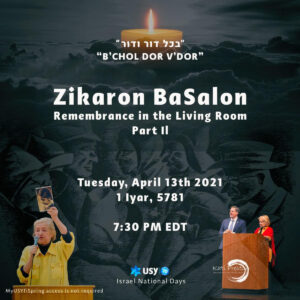 Zikaron BaSalon – Remembrance in the Living Room – Part II – Tuesday, April 13th – 7:30 PM ET

"When you listen to a witness, you become a witness" – Elie Wiesel
Holocaust Survivor and author of the book "Holocaust to Healing: Closing the Circle" Kati Preston will share a testimony of her experiences as a child survivor in Hungary. This event is open to the USY community.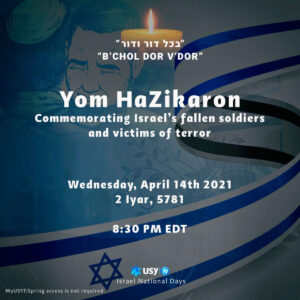 Yom HaZikaron – Israel's Remembrance day of fallen soldiers and victims of terror – Wednesday, April 14th – 8:30 PM ET

A Face. The Day. A Memory.
Join us for an artistic commemorative initiative that transforms memories from the lives of fallen IDF soldiers and those who lost their lives in terrorist attacks into animation films.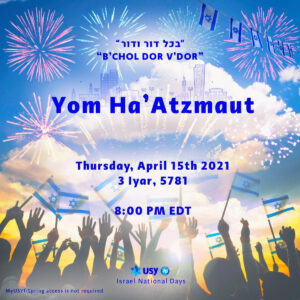 Yom Ha'Atzmaut – Israeli Independence Day – Thursday, April 15th – 8:00 PM ET

Happy Independence Day, Israel! To finish up our observance of the Israeli National Holidays, join USYers from across North America to celebrate Israel through a variety of fun and exciting workshops revealing different aspects of the Holy Land!
---
Check out these events from friends of USY:
ADL Los Angeles and Temple Beth Am event on Antisemitism – Tuesday, April 6 – 8 PM ET – Tune into a conversation between Senior Rabbi Adam Kligfeld and ADL Regional Director Jeffrey I. Abrams regarding the current state of antisemitism and the intra-communal discussion about it.
Megillat Ha'Atzmaut at the Kotel – Sunday, April 11 – 11:30 AM ET – Join World Zionist Organization for the Megillat Ha'Atzmaut reading at the Egalitarian Kotel. – Stay tuned for registration information!
MASA Memorial Ceremony – April 13 at 1:00 PM ET – Tune in online to the MASA Memorial ceremony for Israel's fallen soldiers and victims of terror.
J Street National Conference – April 18-19 – A New Day: Advancing Justice, Diplomacy, and Peace. Registration is free for students!
---
Have any questions? Contact Shira Keshet at [email protected].