Achshav's Summer Program Palooza – Jordyn F.
Editors' Note: Here at Achshav, we take USY Summer Programs very seriously. (Hey! You should go on a USY Summer Program) With that in mind, we can't wait to announce a new series on Achshav, called Achshav's Summer Program Palooza, in which USYers can talk about their summer trip experience and any tips they have for future USYers going on a summer trip. In our first edition of this series, we have Jordyn Figur, a junior from HaNegev discuss her experience on Eastern Europe/Israel Pilgrimage!
---
Forty people, forty days, and three amazing countries all spent with USY on Pilgrimage. Hi! I'm Jordyn Figur and this past year, I went on Eastern Europe/Israel Pilgrimage – Second Departure. This trip was out of the ordinary for me, as I grew up going to Jewish sleepaway camp for eight years. This past summer was sort of a "gap year" of sorts for me at camp, and I figured that since I had never been to Israel, it was the perfect opportunity. Going with USY was a no-brainer; USY has been a large part of my life since my freshman year. I felt as if it was important for me to go to Europe, visit the concentration camps, and learn about my heritage before going to Israel. So, after looking at the different trips that USY offered, I decided that EEIP second departure would be best for me!!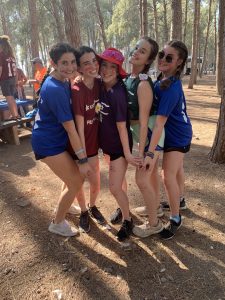 The first day was kind of daunting. I only knew a few people going into my trip, but I knew that in a few short days, we'd all be best friends. So, on June 24th, 2019, I boarded my flight from Atlanta, Georgia, and flew to New York where I'd meet the rest of my trip. As soon as I met up with my Rosh, my head staff member, and one of my staff members, I knew I was in great hands. When I collected my luggage, made the trip to our terminal, and met my new friends, I immediately got excited.
Our first stop was Prague, which was probably my favorite city besides Jerusalem. It was BEAUTIFUL and the architecture was immaculate. (by the way: make sure to get a trdelník, they're incredible and conveniently located next to the hotel you'll stay at). We toured Terezin, the Prague Castle, Charles Bridge, and toured a BEAUTIFUL underground Synagogue.
Next, we went to Poland, which was heavy. We got to Poland on a Friday, right before Shabbat. All of the USY Pilgrimage groups that went to Europe were there and we were able to meet up with our friends from other regions and trips. My favorite part of Poland was the JCC Music Festival! It was so cool being able to see local music and hang out with our friends from multiple trips. While in Poland, we visited many Concentration camps. It was tough, but I had my sub-group and my friends' support.
Our last stop was the beautiful country of Israel. My favorite country. EVER. It is true… Agron does = home. While in Israel, we did everything you could possibly think of. We went to so many places, while enriching our Jewish heritage. Jerusalem was my favorite place because there were so many cultures being mixed together. I could talk about Israel for hours, but I don't want to spoil it for this year's pilgrims.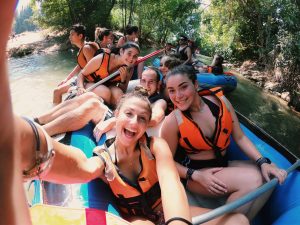 Now, I have some tips for those of you going on pilgrimage:
Bring a journal. every day, write about what you have done, your thoughts, feelings, etc.
Next, download the app "One second a day" to record your favorite parts of the day. I find myself looking back at my one-second a day.
If you're a girl, this one is important. Bring a lot of athletic shorts and less jean shorts.
DRINK TONS OF WATER!! I cannot emphasize that enough. Make sure to bring a Camelbak bladder that you can stick inside of your backpack because those are a game-changer. Also, make sure to bring an extra Camelbak bladder because they tend to break.
Don't be afraid to try new things because they can turn out to be your favorite things. I was afraid of snorkeling and rappelling, but I faced my fears and did it, which was probably the best decision of my life.
As for food, Marzipan=the best place to exist; it's located right outside of Machane Yehudah and has the BEST Rugguleh ever, and if you're ever there right before Shabbat, go there first because it's a Shabbat staple. Aroma is probably the best coffee place to exist. If you find yourself in a place without Aroma, just ask for an Iced Cafe… pretty much the same thing. Also, Ben Yehudah street has a lot of hidden gems, so make sure to try out all of the Shwarma, smoothies, and Ice Cream you can find.
Pilgrimage was the best decision of my life. I tried so many things, saw so many things, and ate so many things. I met so many people who turned out to be my best friends. Don't hesitate to ask me any questions because Pilgrimage was honestly the best decision of my life!
---
Jordyn Figur is a junior from HaNegev. She is a proud member of Sababa USY and Ein Gedi. She is currently serving as Ein Gedi Sub-Regional Vice President, and is the Ein Gedi Sub-Regional President-elect.