10 Reasons You Should Attend #ICDream18
Now that summer's over, International Convention is sooner than you think. Have your registered yet?
If not, let me try to convince you. IC is an opportunity to immerse yourself in hands-on volunteering, leadership experiences and Jewish learning, while building long-lasting communities. Not mention, you get to spend five days in Orlando with your best (read, USY) friends.
Still not convinced that you should register? Read on for the top 10 reasons why you should attend #ICDream18.
Make new friends from all over North America
Reunite with ones you never see
*cough cough* summer friends, encampment friends, friends from #ICChiTown…
Disney World and Universal Studios in the same visit
Harry Potter World, anyone?
Escape the December cold with the warm Orlando weather
Choose between endless creative Shacharit sessions that make tefillot more fun!
Is it a yoga Shacharit or an arts and crafts Shacharit kind of morning?
Hear cool and inspiring speakers
TBT to Rabbi Michael Siegel and Pastor Chris Harris.
Gain a better understanding of your Jewish identity through programs and learning sessions

Explore a new city with new and old friends!
Show off your regional pride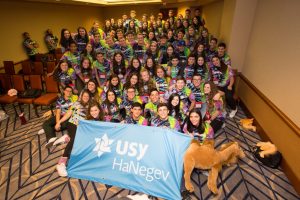 Feel the ruach of hundreds of passionate teens all in one place
Take advantage of everything USY has to offer
Ready to register? Sign-up by 10/31! Find the registration link here: usy.org/ic