Kadima Konnections
USY is so excited to be offering Kadima Konnections – an opportunity for Kadimaniks and Jr. USYers in grades 6-8 from all across North America to connect and have fun!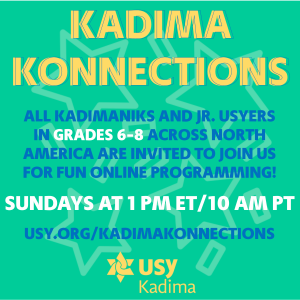 *All Kadima events are password protected. Please RSVP to [email protected] the week of each event if you would like to participate.*
April 12 – Kadima Kahoot! – Join your Kadima friends to play multiple rounds of trivia about Disney, Marvel, Harry Potter, and USY & Kadima!
April 19 – Krafting with Kadima – grab whatever recyclables and art supplies you have around to create a masterpiece with us!
April 26 – Keeping it Cool with Kadima – Yoga and Meditation – join Kadima for some relaxation and mindfulness!
May 3 – Cooking with Kadima – grab your tortillas, cheese, and whatever other kosher ingredients you need to make the perfect kosher quesadilla!
May 17 – Kadima Clue – join us for an online game of clue and figure out whodunnit!
May 24 – Moving on UP – All 8th graders from coast to coast are invited to join us as we officially welcome you into the world of USY!
---
Synagogue Professionals, and parents who want to help get the word out: please click here to access our toolkit with promotional pictures for each program!